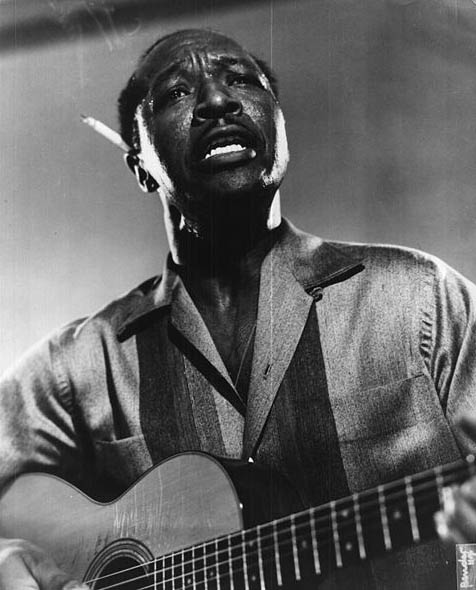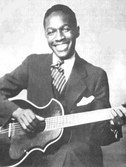 JOSH WHITE (1914 – 1969) was the artist most responsible for introducing black folk, blues and spiritual music to white America and the rest of the world.
He left his home in Greenville, South Carolina at the age of seven to support his family of six, and begin his career in show business (after witnessing white authorities beating his father nearly to death for the late payment of a bill—and sending him to an institution, where he later died from the beatings).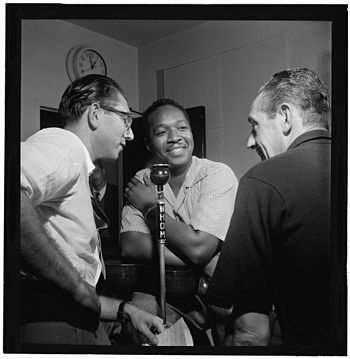 FROM THE AGES 7 – 16, young Joshua's career was spent malnourished, dressed in rags and shoeless, sleeping in fields hiding from the Ku Klux Klan, while witnessing lynching and a black man burned at the stake, as he led (walked) 66 different old, blind, black street singers across America (among them, Blind Lemon Jefferson, Blind Blake, Blind Joe Taggert)—where during the 'day' he would dance, sing, play the tambourine and collect the coins for the old men, and where 'at night', while hiding in the field, he would practice the guitar, and develop his own unique guitar stylings and vast song repertoire-and eventually, while still as a child, would begin recording landmark vocal/guitar duets with Joe Taggert in Chicago (1928)….and a solo record career in New York (1932).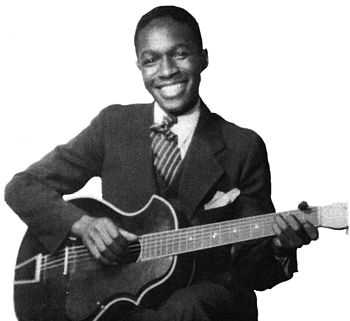 AND THEN, as an adult star, JOSH WHITE would be honored as the first black artist to give a White House Command Performance (1941), the first to perform in previously segregated hotels (1942) the first to earn a million selling record "One Meatball" (1944), the first to make a solo concert tour of America (1945),….AND ON, to become a star of film and Broadway, friends to Kings and Queens, and one of the closest black confidants and advisors to President Roosevelt for black social reforms….ONLY TO BECOME 'BLACKLISTED' (1950), AND HAVE HIS CAREER DESTROYED DURING America's long period of paranoid hysteria with the McCarthy Communist Trials…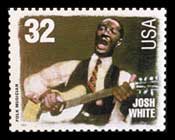 DURING THE 1950's, though chronically ill, he was able to resurrect his career in America, where he resumed recording, and where in concert he was commonly billed "JOSH WHITE" 'The Father of American Folk Music'…HE DIED in 1969, of heart disease and other complications at 55.
AND, on June 26, 1998, the U.S. Postal Service issued a JOSH WHITE 32c Stamp
Pinewood Tom
Tippy Barton
Singing Christian, The
Folk
Blues
Folk-Blues
Political Folk
Regional Blues
Pre-War Gospel Blues
Blues Revival
Protest Songs
Songster
Folk Revival
Country Blues
Topical songwriting
1914 Greenville, South Carolina,
House of The Rising Sun
"St. James Infirmary
"Strange Fruit
"Waltzing Matilda
"Nobody Knows You When You're Down & Out
"John Henry
"Frankie & Johnnie," "Free & Equal Blues
"Jelly, Jelly
"House I Live In
"Evil Hearted Man
"Lass With A Delicate Air
"Riddle Song
"Mean Mistreater
"Careless Love
"Gonna Live The Life
"In My Time of Dying
"I Believe I'll Make A Change
"In The Evening When The Sun Goes Down," "Red River
"Freedom Road
"Betty & Dupree
"Fare Thee Well,
Outskirts of Town
1962, Live in Stockholm
JOSH WHITE Playlist
Two Songs
HISTORY DETECTIVES | Josh White Guitar | PBS
Folk legend – Part 1
Paramount,
ARC,
Decca,
Elektra
Josh White & His Carolinians
Related articles