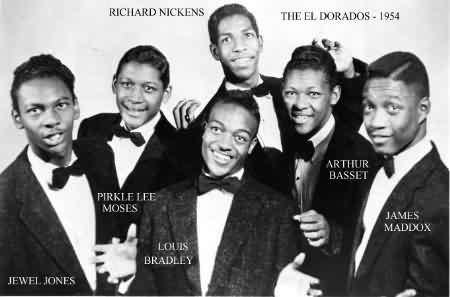 The El Dorados were an American doo-wop group, who achieved their greatest success with the song "At My Front Door", a no. 1 hit on the R&B chart in 1955.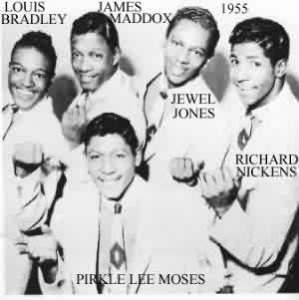 The group formed in Chicago in 1952, originally as "Pirkle Lee and the Five Stars". It comprised Pirkle Lee Moses Jr. (lead vocals), Louis Bradley and Arthur Basset (tenors), Jewel Jones (second tenor/baritone), James Maddox and Richard Nickens (both baritone/bass). When Moses Jr. got out of the United States Air Force in 1954, they changed their name to The El Dorados.
Vivian Carter heard them and signed them to her Vee-Jay Records label, making their first recordings in mid 1954.
After a string of unsuccessful singles, they recorded "At My Front Door" (also known as "Crazy Little Mama") in 1955, and it rose to # 1 on the US Billboard R&B chart, and # 17 on the US pop chart.
Their follow-up, "I'll Be Forever Loving You", also made the R&B top ten in early 1956.
After Basset and Nickens left the group, they continued to record as a quartet. The original group split up in 1957.
Moses stayed in Chicago and formed a new version of The El Dorados with members of another group, The Kool Gents. Meanwhile, Bradley, Jones and Maddox moved to California, and renamed themselves The Tempos.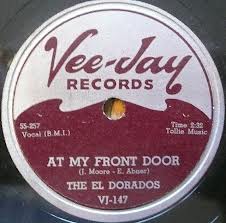 The label dropped The El Dorados in 1958, and Moses Jr. subsequently toured with a succession of backing vocalists.
In 1969, he resuscitated the group name with new members, at the same time as a former member of The Tempos, Johnny Carter, also toured with another set of El Dorados.
The two competing groups merged in the late 1970s, and subsequently continued to tour and record as The El Dorados until Moses' death in 2000. After Moses's death, Norman Palm, a longtime member since the late 1970s, took over and renamed the group Pirkle Lee Moses Jr's El Dorados, in tribute to his long-time colleague and friend.
As of 2008, Pirkle Lee Moses Jr's El Dorados actively tours the Midwest, and the East Coast from time to time.
Arthur Basset
Dee Clark
*James Maddox – baritone and bass
*Jewell Jones – second tenor and baritone
John Carter
John McCall
*Louis Bradley – tenor
*Pirkle Lee Moses, Jr. – lead – died December 26, 2000
Richard Nickens
*Robert Glasper – bass
Teddy Long
Year /Song Title /Highest US Chart Position
Baby I Need You
Annie's Answer
One More Chance
At My Front Door
At My Front Door – (Crazy Little Mama) – John Moore / Ewart Abner / John C. Moore
I'll Be Forever Loving You
Now That You've Gone
A Fallen Tear
Bim Bam Boom
Tears on My Pillow – Sylvester Bradford / Al Lewis / Moore
Three Reasons Why
Lights Are Low – Linda Arnold
A Love of My Own
Chop Ling Soon – Ewart Abner / Moore
I Began to Realize
Language of Love
Little Miss Love
Looking in From the Outside
Loose Booty feat. Parliament
Lord Knows I Tried
My Loving Baby
Now That You've Gone
Oh What a Girl
She Don't Run Around
There in the Night
Trouble Trouble
Lost Nite
24 Blue
Vee-Jay Records
Related articles