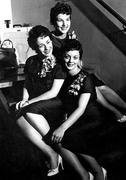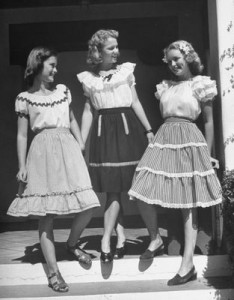 The Poni-Tails were an American girl group from Lyndhurst, Ohio.  Formed in a suburb of Cleveland, the Poni-Tails – Toni Cistone, Karen Topinka and Patti McCabe – started singing at Brush High School, which they all attended. Tom Ilius, a music publisher, had them signed to local record label Point Records, who released their first single, "Your Wild Heart" b/w "Que la Bozena" (the latter of which was written by the group). "Heart" was covered by the then-15-year-old Joy Layne, and became a nationwide hit. The next release was "Can I Be Sure" on Marc Records, which was not a success; following this release Topinka left the group and was replaced by LaVerne Novak.
Soon after this, the group signed to ABC-Paramount and released "Just My Luck to Be Fifteen", a flop. Following this was "Come on Joey, Dance With Me" b/w "Born Too Late". The B-side caught on at radio and became the group's biggest hit, reaching #11 on the U.S. R&B singles chart and #7 on the Billboard Hot 100 in 1958.  Follow-ups "Seven Minutes In Heaven" (#85 Pop) and "I'll Be Seeing You" (#87 Pop) fared less well, and their last single, 1960's "Who, When And Why", did not chart.
ABC-Paramount attempted to sign the group to a further five-year contract, but the group turned it down. The members left the music industry and pursued careers in other fields in Ohio. They reunited to play a Cleveland festival, Moon Dog Coronation ball, in 1997.  A CD released by Poni Records with 12 tracks credited to the Poni-Tails contains only one Poni-Tails song ("Born Too Late") and 11 tracks recorded by other groups.
In 1991 LaVerne (Novak) Glavac was working for a real estate agent in Mentor, Ohio, and had five grandchildren. Toni (Cistone) Costabile was working at a high school in Shaker Heights, Ohio. Patti (McCabe) Barnes died of cancer in January, 1989. Tom Illius subsequently became a top executive with the William Morris Agency in Los Angeles, California. Tom died on September 7th, 2011 in Los Angeles.
Toni Cistone
Karen Topinka (to 1958)
LaVerne Novak (1958-1960)
Patti McCabe – (died 1989)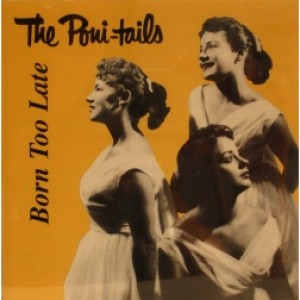 "It's Just My Luck To Be Fifteen" (1957)
"Born Too Late" (U.S. #7, UK #5, 1958)
"Seven Minutes In Heaven" & "Close Friends" (U.S. #85, 1958)
"Early to Bed" (UK #26, 1959)
"Moody" (1959)
"I'll Be Seeing You" (U.S. #87, 1959)
"Who, When And Why" (1960)
Poni-Tails – Born Too Late
The Poni-Tails – Moody (1959) 
The Poni-Tails – (It's Just My Luck To Be) Fifteen (1957)
The Poni-Tails – Come Be My Love (1960) 
Point Records
ABC-Paramount
Poni Records
http://www.allmusic.com/artist/the-poni-tails-mn0000416098
http://www.waybackattack.com/ponitails.html
http://www.billboard.com/artist/418860/poni-tails/biography
http://www.rockabilly.nl/references/messages/poni-tails.htm
Related articles