1960: The Hollywood Argyles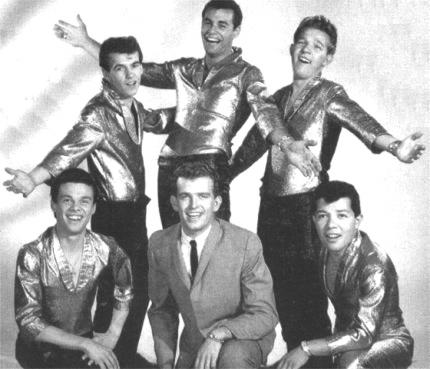 The Hollywood Argyles were a quickie act thrown together by producers Kim Fowley and Gary Paxton, featuring Sandy Nelson. Fowley made his first recordings with drummer Sandy Nelson during the late '50s and had already produced a number of short-lived groups — including the Paradons and the Innocents — and found his first taste of success by producing a handful of successful efforts by Arizona schoolmates Gary ("Flip") Paxton and Clyde ("Skip") Battin, who performed under the name Skip and Flip, who scored two Top Twenty hits in 1959, "Cherry Pie," (number 11 Pop) and "It Was I" (number 11 Pop). Immediately after dissolving Skip & Flip, Paxton and Fowley created a novelty doo wop-inspired group — a one-off collection of local musicians and vocalists — and called them the Hollywood A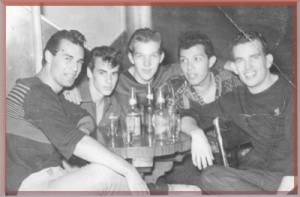 rgyles.
In 1960, this "group" actually topped the charts with the number one smash hit "Alley Oop," a flagrant Coasters ripoff that had been written and performed by future country artist Dallas Frazier a few years earlier in 1957. It was based on a popular newspaper comic strip character at the time. Fowley and drummer Sandy Nelson, drunk as skunks, bashed empty bottles and wastepaper baskets. As the group weren't merely anything more than a collection of Fowley's music-making associates, they didn't have a follow-up, and Fowley and Paxton moved on.
In October of that same year, Fowley and Paxton signed a production deal with Bob Keene's Del-Fi Records, recording a follow-up called "Alley Oop Cha Cha Cha," while Paxton drawled out the very same lyrics to the "Alley Oop" hit. It was credited to the Prehistorics.
Pop/Rock
R&B
Early Pop/Rock
Rock & Roll
Gary S. "Flip" Paxton
Kim Fowley
Sandy Nelson
Jerry Riopelle???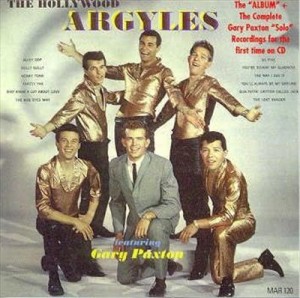 "Alley Oop" / "Sho Know A Lot About Love" (1960, Lute 5905)
"Gun Totin' Critter Named Jack"* / "The Bug Eyed Man" (1960, Lute 5908)
"Hully Gully" / "So Fine" (1960, Lute 6002)
"You've Been Torturing Me"* / "The Grubble" (1961, Paxley 752; credit: Gary Paxton And The Hollywood Argyles)
"Long-Hair-Unsquare Dude Called Jack" / "Ole" (1965, Chatahoochie 691)
"Alley Oop '66" / "Do the Funky Foot" (1966, Kammy 105)
 Note: some songs are covers of Four Young Men (e.g. Crest 1076)
Alley Oop
Alley Oop – The Hollywood Argyles
(Gary Paxton & The Hollywood Argyles ) – So Fine
The Hollywood Argyles – Gun Totin' Critter Called Jack
http://garyspaxton.net/Music1/AlleyOop.htm
http://www.rockabilly.nl/references/messages/hollywood_argyles.htm
http://www.discogs.com/artist/317671-Hollywood-Argyles
http://www.allmusic.com/artist/the-hollywood-argyles-mn0000581650
Related articles