Marmalade was a Scottish pop rock group from the east end of Glasgow, originally formed in 1961 as the Gaylords, and then later billed as Dean Ford and the Gaylords. In 1966 they changed the group name to the Marmalade.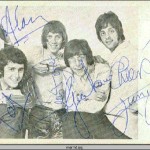 Marmalade is one of those groups that just seems to endure. They are best remembered today for one record, their cover of the Beatles' "Ob-La-Di, Ob-La-Da," although they charted number one records and even Top Ten American singles into the 1970s. The group, especially as constituted up through the early '70s, had many sides, including white soul, harmony dominated pop/rock, and progressive pop, all very much like the Beatles in their middle years. However, it was their cover of a Beatles song, oddly enough, that weighed down their reputation.
In point of fact, they did somewhat resemble the Beatles musically, having started out as a band of teenagers eager to play hard rock & roll; like the Beatles, they developed a great degree of sophistication in their singing and playing, but they never had the freedom to experiment with the different sides of their music. Ironically, in their prime, their career arc most resembled that of the Tremeloes, who made incredibly well-crafted pop/rock but were never taken seriously.
The quintet's history began in 1961 when teenagers William "Junior" Campbell and Patrick Fairley met on Campbell's 14th birthday and discovered that they both enjoyed playing rock & roll. Their early inspirations were the Everly Brothers and Cliff Richard & the Shadows. Soon they were playing together, Campbell on guitar (and, increasingly in later years, keyboards) and Fairley on guitar, and then they added bassist Billy Johnson and drummer Tommy Frew. They took the name the Gaylords and played local clubs for little or no money, and Johnson and Frew were later succeeded by Bill Irving and Raymond Duffy, respectively. The group began getting decidedly better gigs when singer Thomas McAleese — who took the stage name Dean Ford — joined. For a time, they were known officially as Dean Ford & the Gaylords, in keeping with the notion that many successful acts (Cliff Richard & the Shadows, et al) had one member as their focus.
The Gaylords
Dean Ford and the Gaylords
Pop music
Psychedelic pop
British Invasion
British Psychedelia
Contemporary Pop/Rock
Psychedelic/Garage
Bubblegum
Soft Rock
Gaylords members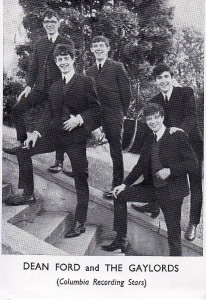 Patrick Fairley (1961-1966)
William Junior Campbell (1961-1966)
Tommy Frew – drums (1961-1963)
Billy Johnston – bass (1961)
Wattie Rodgers – vocals (1961)
Pat McGovern – lead guitars (1961)
Tommy Scott – vocals (1961-1963)
Billy Reid – vocals (1961)
Bill Irving – bass (1961-1964)
Davey Hunter – organ (1963)
Dean Ford (1963-1966)
Raymond Duffy (1963-1966)
Graham Knight (1965-1966)
Original band
Patrick Fairley – vocals, 6 string bass/rhythm guitars (1966-1972)
William Junior Campbell – vocals, guitars, keyboards (1966-1971)
Dean Ford – lead vocals, guitar, harmonica (1966-1975)
Raymond Duffy – drums (1966)
Graham Knight – vocals, bass (1966-1973, 1975-2010)
Further members
Alan Whitehead – drums (1966-1971, 1975-1978)
Dougie Henderson – drums (1971-1975)
Hugh Nicholson – vocals, guitars (1971-1973)
Joe Breen – vocals, bass (1973-1975)
Mike Japp – vocals, guitars (1973-1975; died 2012)
Sandy Newman – vocals, lead guitar, keyboards (1975–present)
Charlie Smith – vocals, guitar (1975-1977; drums 1980-1982 and 1989-1998)
Ian Withington – vocals, guitar (1978-1980)
Stu Williamson – drums (1978-1980)
Garth Watt-Roy – vocals, keyboards (1977-1978)
Glenn Taylor – drums (1982-1989; 1998-2010)
Dave Dee – vocals (1987-2009)
Current Members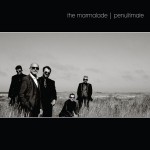 Sandy Newman – lead vocals, lead guitar, keyboards (1975–present)
Alan Holmes – vocals, acoustic/electric guitar, keyboards (1980–present)
Mike Steed – vocals, bass, penny whistle (2010–present)
Damon Sawyer – drums, percussion (2010–present)
John James Newman – vocals, acoustic guitar (2011–present)
2013 saw the current "Marmalade" line up release their first new studio album since 1979. Titled 'Penultimate' and released in CD and vinyl formats, it features six entirely new compositions together with *re-recordings of many Marmalade classics. The album was launched on October 4, 2013 to coincide with the start of a 52-date UK tour. John James Newman, 2012 finalist on BBC's The Voice, joins his father and lead vocalist, Sandy, on stage, with backing vocals and acoustic rhythm guitar.
Dean Ford and the Gaylords singles
"Twenty Miles" c/w "What's The Matter With Me" Columbia DB7264 April 1964
"Mr Heartbreak's Here Instead" c/w "I Won't" Columbia DB7402 November 1964
"The Name Game" c/w "That Lonely Feeling" Columbia DB7610 June 1965
"He's A Good Face" (But He's Down And Out)" c/w "You Know It Too" Columbia DB7805 December 1965
Marmalade studio albums
Original band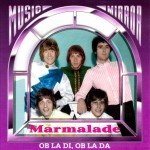 There's A Lot Of It About (1968) CBS
Best Of (1969) CBS
Reflections Of The Marmalade (1970) Decca Records
Additional/ later line-ups
Songs (1971) Decca Records
Our House Is Rocking (1974)
The Only Light On My Horizon Now (1977)
…Doing It All For You (1979)
Marmalade (US only) (1980)
Heartbreaker (1982)
Penultimate (2013)
Ob La Di, Ob La Da
Falling Apart at the Seams
Cousin Norman
Baby Make It Soon
Radancer
I See the Rain
Rainbow
Wait for Me Mary-Anne
I've Been Around Too Long
Chains
Mama
My Little One
Just One Woman
Stay With Me Baby
Clean Up Your Heart
Mi Piace
Man in a Shop
Carolina in My Mind
And Yours Is a Piece of Mine
Love Is Hard to Re-Arrange
There Ain't No Use in Hanging On
What Are You Gonna Do
Mr. Lion
It's Hard to Understand…
Fly Fly Fly
Waiting for Marianne
I Shall Be Released
I Listen to My Heart
Shoot to Thrill
I'll Be Home
Rollin' My Thing
CBS
Decca
London
Target Records
Castle, Sanctuary
Union Square Music
http://www.themarmalade.net
http://www.allmusic.com/artist/marmalade-mn0000334054/biography
http://www.rockingscots.co.uk/marms.htm
Related articles