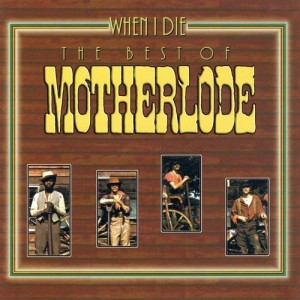 As an offshoot of the massive nine-piece Grant Smith and the Power, the four original members of Motherlode (guitarist Ken Marco, saxophonist Steve Kennedy, keyboardist William "Smitty" Smith, and Wayne Stone on drums) split the funky corridors of Toronto and its teeming Yonge Street strip for relatively staid London, Ontario. There, the band got down to business writing originals and, after struggling for a spell, struck the real mother load in late 1969 when their first single, the silky, summery 'When I Die', sold half a million copies south of the border, later climbing to number 5 spot up here in Canuckistan. With enough tracks in the can for a long-player, the band issued their debut LP When I Die on the strength of that single (both records came out on Revolver in Canada, but on the more influential Buddah imprint in the U.S.). Unfortunately, When I Die was a rather haphazard affair, rife with schmaltzy Latin vibes (follow-up single 'Memories of a Broken Promise'), anemic r'n'b covers (Jr. Walker's 'What Does It Take') and a lethargic stab at duplicating their hit (Marco's 'Livin' Life').
By early 1970 the band had fractured, and a posthumous album released by Buddah for the U.S. market, the aptly named Tapped Out, sadly showed that the band was indeed just that. Though Marco, Kennedy and Stone had already left to find success with Doug Riley's sprawling Dr. Music ensemble, Revolver president Mort Ross pressed on, trying out other incarnations under the same name – even recruiting guitarist Gord Waszek from Leigh Ashford – but to little avail. And so by late 1971, after a pair of lame seven-inchers failed to chart, Motherlode's membership into the one-hit wonder club seemed all but complete.
Naturally that didn't spell the end of the band. Singer/guitarist Smith recruited a new line up consisting of drummer Philip WIlson, sax player Doug Richardson and guitarist Anthony Shinault. The revised line up managed to record an instantly obscure Canadian single 'I'm So Glad You're You (And Not Me)' b/w 'Whipoorwill' (Revolved catalog number 008), before collapsing.
Unwilling to let the project die, Revolver Records financed what was in essence Motherlode mark III. With no original members involved, this incarnation of the group featured drummer Wally Cameron, keyboardist Newton Garwood, singer Breen Laboef, bassist Mike Levine, guitarist Keran Overs, Wayne St. John, Gord Waazek. Another single was release 'All That's Necessary' b/w 'The Chant' (Revolver catalog number 011). It also vanished overnight.
The following year there was a fourth effort to resurrect the band; this time with members of the band Natural Gas. This line up collapsed before they could even record, with the survivors subsequently reappearing as Truck.
Pop/Rock
R&B
Pop-Soul
Soul
Sunshine Pop
Steve Kennedy – saxophone
Ken Marco – guitar
William "Smitty" Smith – keyboards
Wayne Stone – drums
Guest musicians
Daine Brooks – Background Vocals
Carol Kay – Bass, Acoustic Guitar
Dave Young – Bass
Paul Mickey Callum – Congas
Andy Cree – Percussion
Later members
Doug Richardson – saxophone – replaced Steve Kennedy 1970
Anthony Shinault – Guitar- replaced Ken Marco 1970
Philip Wilson – drums – replaced Wayne Stoney Stone 1970
Wally Cameron – drums – replaced Philip Wilson 1971
Newton Garwood – keyboards – Replaced William Smitty Smith 1971
Gord Waszek – guitar – replaced Anthony Shinault 1971
Dave Berman – saxophone
Brian Dewhurst – drums
Breen LeBeouf – Vocals
Gerry Legault – Bass, Vocals
Mike Levine – Bass
Kieran Overs – guitar
Joey Roberts (Miquelon) – Guitar
Wayne St. John – Vocals
Brian Wray – Keyboards
"When I Die" / "Hard Life" – Revolver REVS 002 – 1969
"When I Die" / "Hard Life" – Buddah BDA 131 – 1969
"Memories Of A Broken Promise" / "What Does It Take" – Revolver REVS 004 – 1969
"What Does It Take" / "Memories Of A Broken Promise" – Buddha BDA 144
"Dear Old Daddy Bill" / "Living Life2 – Revolver REVS 005 – 1970
"I'm So Glad You're You (And Not Me)" / "Whipoorwill2 – Revolver REVS 008 – 1970
"All That's Necessary" / "Chant" – Revolver REVS 011 – 1970 or 1971
Motherlode – When I Die
Motherlode – When I Die
Revolver Music
Buddha Records
Unidisc
offshoot of the massive nine-piece Grant Smith and the Power
http://www.allmusic.com/artist/motherlode-mn0000500646/biography
Related articles