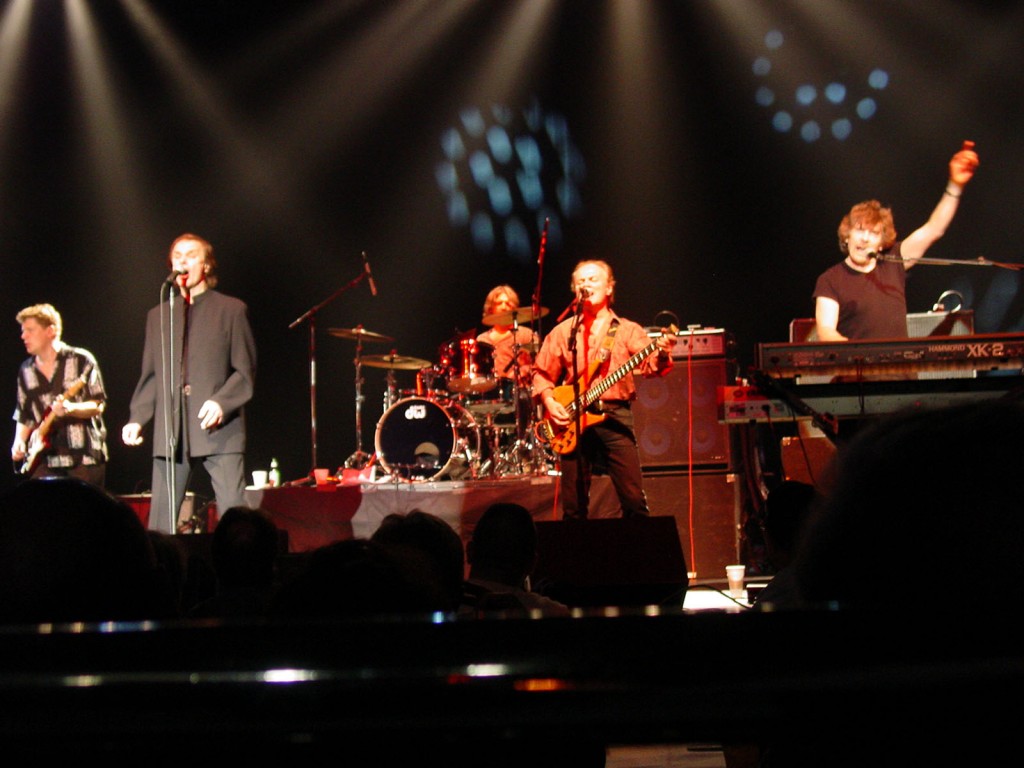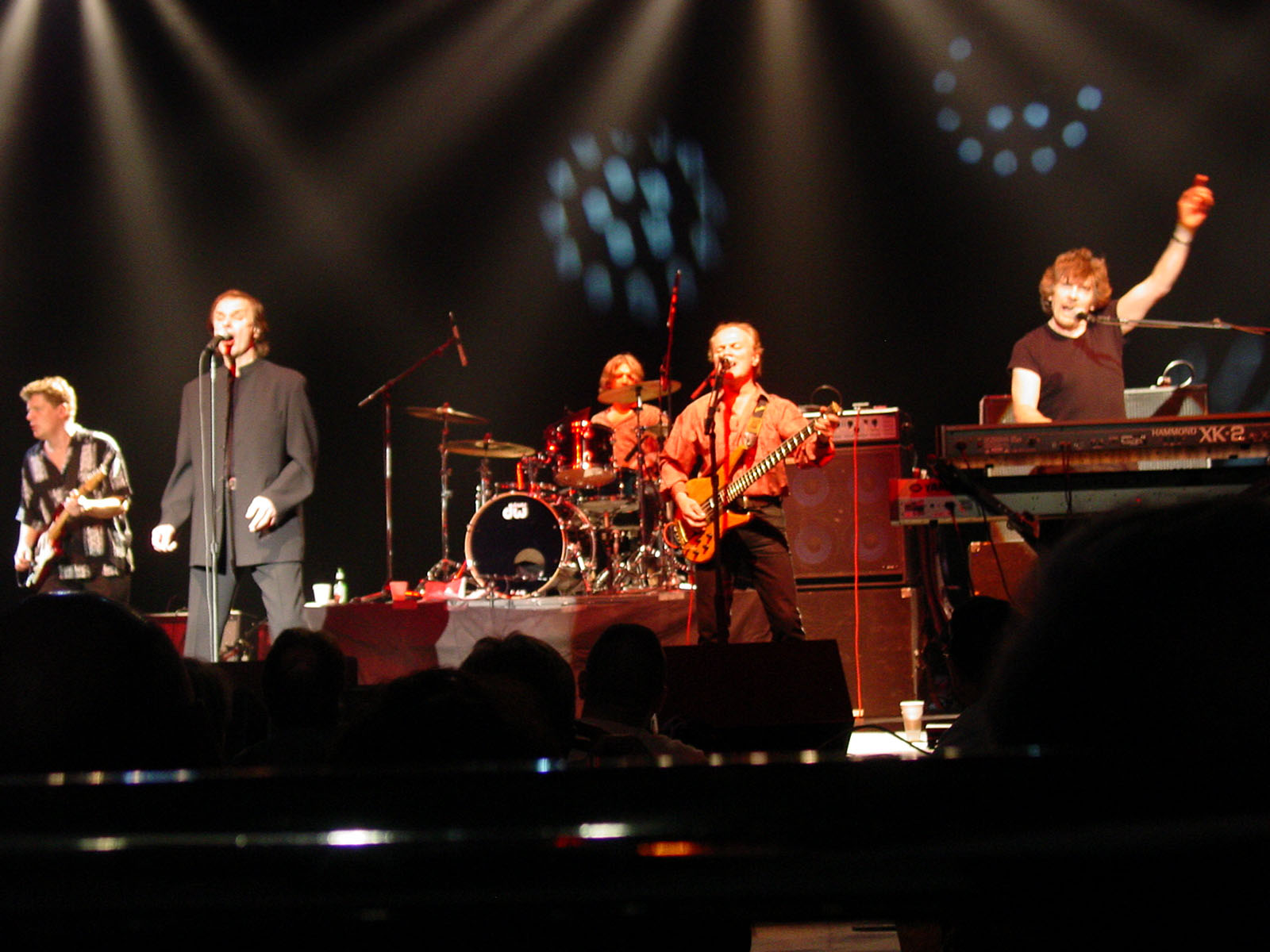 The Zombies are an English rock band, formed in 1962 in St Albans and led by Rod Argent (piano, organ and vocals) and Colin Blunstone (vocals). The group scored British and American hits in 1964 with "She's Not There". In the US, two further singles, "Tell Her No" and, in 1969, "Time of the Season", were also successful. Their 1968 album, Odessey and Oracle, comprising twelve songs by the group's principal songwriters, Argent and Chris White, is ranked number 100 on Rolling Stone magazine's list of the 500 Greatest Albums of All Time.   The group formed in 1962 in St Albans, Hertfordshire, England, and gained their initial reputation playing the Old Verulamians Rugby Club in that city. The band was formed while the members were at school. Some sources state that Argent, Atkinson and Grundy were at St Albans School, while Blunstone and White were students at St Albans Boys' Grammar School (since renamed Verulam School).[3][4] Argent was a boy chorister in St Albans Cathedral Choir.
Their choice of names was out of desperation, and the Zombies won out over Chatterley and the Gamekeepers, according to Blunstone and White.[5] After winning a beat-group competition sponsored by the London Evening News, they signed to Decca and recorded their first hit, "She's Not There" (Argent's second song, written specifically for this session).[citation needed] It was released in mid-1964 and peaked at number 12 in the UK, their only UK Top 40 hit. This minor-key, jazz-tinged number, distinguished by its musicianship and Blunstone's breathy vocal, was unlike anything heard in British rock at the time. It was first aired in the United States in early August 1964 on New York City rock station WINS by Stan Z. Burns, who debuted the song on his daily noontime "Hot Spot". The tune began to catch on in early fall and eventually climbed to No.2 in early December. Like many other British Invasion groups, the Zombies were sent to the United States to tour behind their new hit single. Among their early U.S. gigs were Murray the K's Christmas shows at the Brooklyn Fox Theatre, where the band played seven performances a day. On January 12, 1965, the band made its first in-person appearance on U.S. television, on the first episode of NBC's Hullabaloo. They played "She's Not There" (and their latest single "Tell Her No") to a screaming, hysterical audience full of teenage girls. After the follow-up single to "She's Not There", "Leave Me Be", was stiffed in the UK (and was not issued as a single in the US, although it was on the B side of "Tell Her No"), Rod Argent's "Tell Her No" became another big seller in the United States in 1965, peaking at No.6 on the Billboard Hot 100 in March. "Tell Her No", however, failed to make the Top 40 in the UK. Subsequent recordings such as "She's Coming Home", "Whenever You're Ready", "Is This the Dream", "Indication" and "Gotta Get a Hold of Myself" failed to achieve the success of the previous two singles (although the Zombies had continued success in Scandinavia and the Philippines).[1] A song by The Zombies released only as a B-side (to "Whenever You're Ready") in the US and the UK in 1965, "I Love You" subsequently became a sizable hit for the group People! in the United States in 1968.
The Zombies's first UK LP, Begin Here (1965) was an equal mix of original songs and R&B covers. While continuing recording in 1965–66 and trying to achieve chart success, they recorded enough material for a follow-up album, but the lack of chart success kept most of those tracks from being issued. In 1967 the Zombies signed to CBS Records for whom they recorded the album Odessey and Oracle (the word odyssey was misspelled by cover designers). Because the band's budget could not cover session musicians, they used a Mellotron. By the time Odessey and Oracle was released in April 1968, the group had disbanded (in December 1967). The album sold poorly and was given a US release only because musician Al Kooper, then signed to Columbia Records, convinced his label of the album's merits. One of its tracks, "Time of the Season", written by Argent, was released as a single and eventually (1969) became a nationwide hit (Billboard Hot 100 peak position: No.3). In 1968, Rod Argent and Chris White began working on material for a possible new band when they were approached by CBS to do another Zombies album. Several new tracks were cut with a line-up of Argent, Hugh Grundy, Jim Rodford (bass) and Rick Birkett (guitar), and were combined with some old Decca out-takes and demos. Unfortunately the album, scheduled for release in 1969, was canceled and only a couple of the songs, "Imagine the Swan" (one of the newly recorded songs) and "If It Don't Work Out" (a demo of a song that Dusty Springfield recorded and released in 1965) were put out as singles instead. (Some of this material was released on several compilation albums during the 70s and 80s, and the album, titled R.I.P., was finally released in Japan in 2008).
Rock
beat
jazz-rock
Pop
British Invasion
AM Pop
Baroque
Contemporary Pop
Psychedelic Pop
Psychedelic
Garage
British Psychedelia
1962–1968
1991
1997
2001–present
(by year)
The Zombies (1962–1967)

Colin Blunstone – lead vocals
Rod Argent – organ, vocals
Paul Atkinson – guitar, vocals
Chris White – bass, vocals
Hugh Grundy – drums

1968–1991

Band Split

The Zombies (1991)

Colin Blunstone – lead vocals
Sebastian Santa Maria – organ, guitar
Chris White – bass, vocals
Hugh Grundy – drums

1991–1997

Band Split

The Zombies (1997)

Colin Blunstone – lead vocals
Rod Argent – organ, vocals
Paul Atkinson – guitar, vocals
Chris White – bass, vocals
Hugh Grundy – drums

1997–2001
Band Split
Argent & Blunstone (2001–2004) The Zombies (2004–2010)

Colin Blunstone – lead vocals
Rod Argent – organ, vocals
Keith Airey – guitar, vocals
Jim Rodford – bass, vocals
Steve Rodford – drums

The Zombies (2010–present)

Colin Blunstone – lead vocals
Rod Argent – organ, vocals
Tom Toomey – guitar, vocals
Jim Rodford – bass, vocals
Steve Rodford – drums
Studio albums
Begin Here (UK) (1965) / The Zombies (U.S.) (1965) US #39
Odessey and Oracle (1968) US #95
New World (1991)
As Far As I Can See… (2004)
Breathe Out, Breathe In (2011)
Live albums
Live at the BBC (2003)
Live at the Bloomsbury Theatre, London (2005) (also on DVD)
Odessey and Oracle: 40th Anniversary Live Concert (2008) (also on DVD)
Live In Concert At Metropolis Studios (2012)
Live in the UK (2013)
Compilation albums
I Love You (1965) (released by Decca in Holland and Japan)
The World of the Zombies (1970)
The Beginning (1973) (Vol 9 of "The Beginning" series on Decca, a selection from "The Early Days" and The Zombies)
Time of the Zombies (1974) (Contains hit singles, "Odessey & Oracle" and tracks from their unreleased LP) #204 U.S.
The Zombies:The Collection (1988) Castle Communications
Zombie Heaven (1997) (4CD compilation with rarities and live recordings)
Absolutely the Best (1999)
Decca Stereo Anthology (2002)
The Singles: A's and B's (2005)
The Ultimate Zombies (2007)
Into the Afterlife (2007) (compilation of post Odessey and Oracle recordings)
Zombies & Beyond (2008) UK #43
Contributions
Bunny Lake Is Missing – An Original Soundtrack Recording (1965) (contributed tracks)
August 1964 "She's Not There"/"You Make Me Feel Good"
November 1964 "Leave Me Be"/"Woman" (UK/Australia/CAN only single)
December 1964 "Tell Her No"/"What More Can I Do?" ("Leave Me Be" in U.S.) 4
March 1965 "She's Coming Home"/"I Must Move"
June 1965 "I Want You Back Again"/"Remember When I Loved Her" (US/CAN only single)
August 1965 "Whenever You're Ready"/"I Love You"
September 1965 "Just Out of Reach"/"Remember You"
February 1966 "Is This the Dream?"/"Don't Go Away"
June 1966 "Indication"/"How We Were Before"
September 1966 "Gotta Get a Hold of Myself"/"The Way I Feel Inside" (UK only single)
March 1967 "Goin' Out of My Head"/"She Does Everything for Me" (UK only single)
October 1967 "Friends Of Mine"/"Beechwood Park" (UK only single)
November 1967 "Care of Cell 44″/"Maybe After He's Gone"
April 1968 "Time of the Season"/"I'll Call You Mine"
June 1968 "I Love You"/"The Way I Feel Inside" (UK only single)
July 1968 "Butcher's Tale (Western Front 1914)"/"This Will Be Our Year" (US/Can only single)
March 1969 "Time of the Season"/"Friends of Mine"(US only single)
May 1969 "Imagine the Swan"/"Conversation Off Floral Street"(US only single)
July 1969 "If It Don't Work Out"/"Don't Cry For Me" (US only single)
Time Of The Season Tell Her No  Summertime She's Not There (1964)  Begin Here *Debut* – FULL ALBUM (1965)  Odessey and Oracle (1968) Full Album Begin Here 22 Videos
Parrot
Date
Decca
CBS
Tower
http://www.discogs.com/artist/262221-Zombies-The
https://www.facebook.com/thezombiesmusic
http://www.allmusic.com/artist/the-zombies-mn0000582313
http://www.last.fm/music/The+Zombies
Related articles