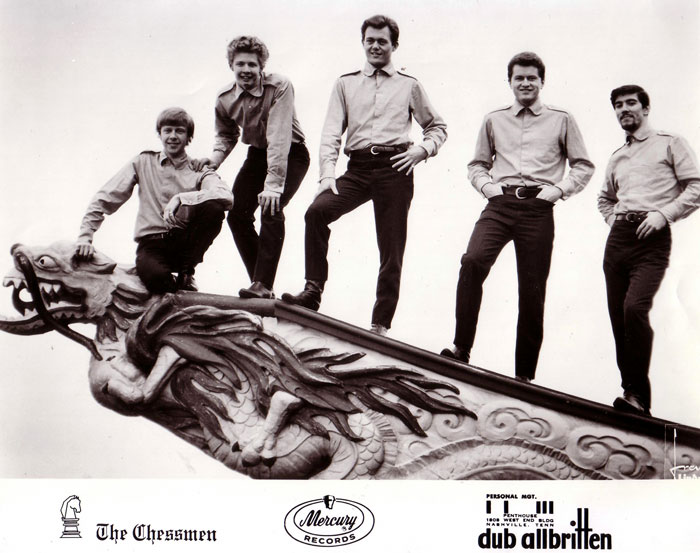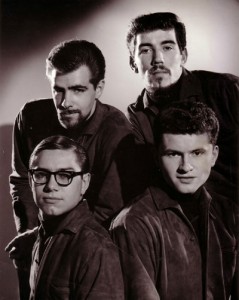 Guy Sobell was a guitarist in a Vancouver band, The Ken Clark Trio, and while in Europe, he had heard music by Swedish group The Spotnicks and the English group The Shadows and decided to form his own band after returning to Canada.
At the same time, a 17 year old named Terry Jacks had put together a "surf" band", The Sand Dwellers. When the Sand Dwellers split up, some of the members re-formed as The Vancouver Playboys which left Terry Jacks without a band.
Jacks and Sobell were introduced to two fellow University of British Columbia students, Bill Lockie, a guitar player who was learning to play bass, and Erik Kalaidzis, a singer who played chess with Sobell and The Chessmen were born.
Initially, they did gigs at UBC fraternity houses for $40 a night without a drummer. Kalaidzis later left the group because his vocal style was more classical and not geared to what the group was doing at the time. So the band became an instrumental group.
The band acquired drummer Tom Meikle and began touring motels and hotels in the British Columbia interior through the winter of 1963. Upon their return to Vancouver they replaced Meikle with drummer Kenny Moore.
In mid-1964 they recorded three songs at Robin Spurgin's Vancouver Recording Studio: "Meadowlands","Mustang" and "When I'm Not There".
Vancouver DJ Red Robinson gave the tape to London Records who released the band's first single – "Meadowlands" – in December 1964. Robinson also had the record released Jerden records stateside but under the title "Mr. Meadowland".
With the success of the London release locally, the band returned to live performances at sock hops, roller rinks, and high school dances across British Columbia throughout the spring of 1965.
Jacks wrote a new song for the band – this time with vocals which he supplied (the band was still instrumental at this point) – called "The Way You Fell" which was soon committed to tape at Vancouver Recording Studio along with a b-side called "She Comes By Night". They also had another new drummer for this session named Al Wiertz. The single was released in April 1965 and managed to hit a peak of No.4 on Vancouver station CFUN-AM's Top50. After seeing Brenda Lee in Vancouver, Jacks became friends with her manager Dub Allbritten who soon managed The Chessman. He got the band a deal stateside with Mercury Records. In September 1965 they traveled by bus with new drummer Myles Kingan and electric accordian player Bruce Peterson to Nashville. Over two days they recorded four songs with producer Jerry Kennedy (Roger Miller, Jerry Lee Lewis, Charlie Rich) at Fred Foster's studio.
Upon their return to Vancouver, they played The Beach Boys show along with Charlie Rich and The Castaways at the PNE Gardens. This was followed by fall 1965 gigs with Buddy Knox and Roy Orbison between their usual high school and dance hall gigs.
Mercury released the new single, "Love Didn't Die", in December 1965 and they band closed out the year opening a show for Gary Lewis and The Playboys in Vancouver.
In February, 1966 they returned to Nashville – this time by plane – for two more recording sessions featuring new bassist Borisoff. These sessions produced the single "What's Causing This Sensation" b/w "For Running Wild" which was released in April 1966 on Mercury to little fanfare. The Chessmen continued touring across British Columbia with their new drummer Duris Maxwell. The Chessmen's final gig was in Ladner, British Columbia on July 15, 1966. Some material from this gig would end up being released in 2010 on Regenerator Records' 'Chessmen Collection'.
R&B
Pop/Rock
Garage
Rock
Psychedelic/Garage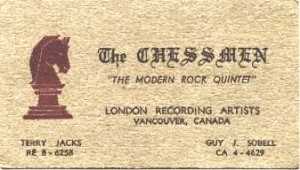 Terry Jacks (guitar, vocals)

Guy Sobell (lead guitar)

Bill Lockie (bass)

Erik Kalaidzis (vocals)

Tom Meikle (drums)

Kenny Moore (drums; replaced Meikle)

Al Wiertz (drums; replaced Moore)

Miles Kingan (drums; replaced Wiertz)

Bruce Peterson (electric accordion; added)

Larry Borisoff (bass, vocals; replaced Lockie)

Duris Maxwell (drums; replaced Kingan)
2010 Collection: 1964-1966 (Regenerator)
1964 Meadowlands/Mustang [instrumental] (London) M-17334
1965 The Way You Fell/She Comes By Night (London) M-17340
1965 Love Didn't Die/You Lost Your Love (Mercury) M-72498
1966 What's Causing This Sensation (Mercury) M-72559
 MEADOWLANDS
MUSTANG
The Way You Fell
There's No Blood in Bone
Love Didn't Die
London Records
Jerden records
Mercury
The Sand Dwellers
The Ken Clark Trio
Related articles