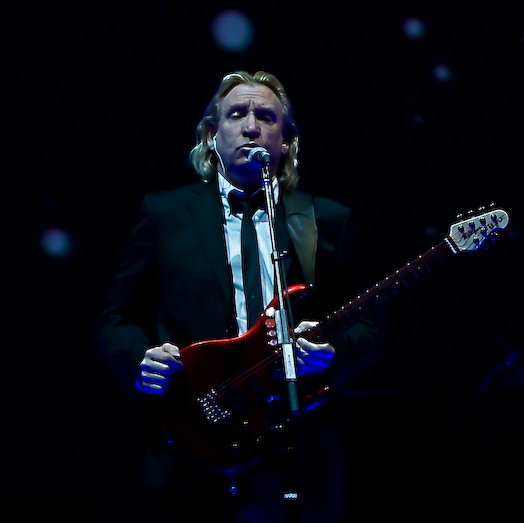 Joseph Fidler "Joe" Walsh (born Joseph Fidler; November 20, 1947) is an American musician, singer-songwriter, Multi-instrumentalist, record producer, and actor. He has previously been a member of two commercially successful bands: Barnstorm and the Eagles. In the late 1960s, he was also a member of the critically acclaimed James Gang. He has also experienced success both as a solo artist and prolific session musician. Walsh was ranked at the Number 54 spot in the Rolling Stone magazine's "100 Greatest Guitarists of All Time." Walsh was inducted into the Rock and Roll Hall of Fame as a member of the Eagles in 1998, the first year they were nominated.
The guitar solo on the track, Hotel California by Walsh and Don Felder was in 1998 by Guitarist magazine selected as the best guitar solo of all time, and again in 1998 by Guitar Magazine at eighth of the Top 100 Guitar Solos.
Walsh stands among rock & roll's best guitarists. He has also been praised by many of the best guitarists, such as Led Zeppelin's former guitarist, Jimmy Page who praised Walsh by saying "He has a tremendous feel for the instrument. I've loved his style since the early James Gang." Cream's former guitarist Eric Clapton said that "He's one of the best guitarists to surface in some time. I don't listen to many records, but I listen to his." And The Who's guitarist Pete Townshend said that "Joe Walsh is a fluid and intelligent player. There're not many like that around."
Although known primarily as a guitarist, he also plays other instruments, including keyboards, clarinet, mandolin, oboe, bagpipes, talk box, synthesiser, bass guitar and drums.
Early life and education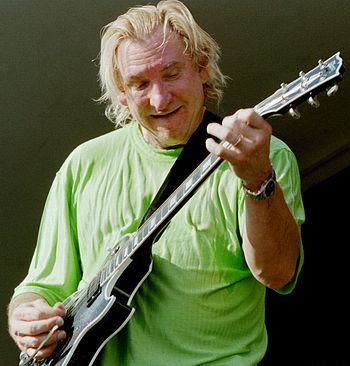 Joseph Fidler Walsh was adopted by his step-father (his biological father was killed in a plane crash), whose last name was Walsh, at the age of five. In the 1950s it was common practice for Social Security, school registration, and health records for children to take the name of their stepfather. Walsh's birth father's last name was Fidler and he took that as his middle name.  A native of Wichita, Kansas, Walsh and his family lived in Columbus, Ohio, for a number of years during his youth. His mother was a classically trained pianist of Scottish and German ancestry. When Walsh was twelve years old his family moved to New York City. Later, Walsh moved to Montclair, New Jersey and attended Montclair High School there. While at Montclair High School, he replaced Bruce Hoffman as the bass player in the locally popular group the Nomads. While attending Kent State University, he spent time in various bands playing around the Cleveland area, including the Measles, he dropped out of university to pursue his musical career. Walsh began a lifelong hobby of amateur ("ham") radio while living in New York City.
Career
1960s and 1970s

In January 1968 he replaced Glenn Schwartz as the lead guitarist for the James Gang, a five piece American band that rapidly became a power trio after their lead vocalist and keyboardist quit. They released their first album, Yer' Album, in 1969. Afterwards, Tom Kriss left the band and was replaced by Dale Peters, creating the most successful incarnation of the James Gang. Walsh proved to be the band's star attraction, noted for his innovative rhythm playing and creative guitar riffs. In particular he was known for hot-wiring the pick-ups on his electric guitars to create his trademark "attack" sound.[9] The James Gang had several minor hits and became an early album-oriented rock staple for the next two years, Shortly before the release of James Gang Rides Again, the James Gang opened a show for the legendary rock band, The Who in Pittsburgh. Pete Townshend their guitarist caught the James Gang before they left and was impressed enough to invite them on The Who's subsequent European tour, and when Walsh was asked about this he said that "Pete's a very melodic player and so am I. He told me that he appreciated my playing. I was flattered beyond belief because I didn't think I was that good."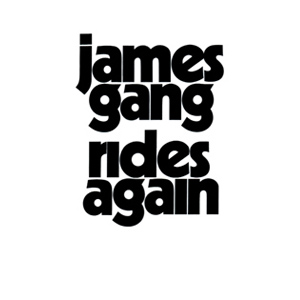 The James Gang's next two albums, James Gang Rides Again (1970) and Thirds (1971), produced such classics as Funk #49 and Walk Away. the album James Gang Live at Carnegie Hall was his last album with them, as he became dissatisfied with its limitations. In November 1971, Walsh left and formed the group Barnstorm, although their albums credited Walsh as a solo artist. Walsh and Barnstorm released their debut, the eponymous Barnstorm in October 1972. The album was a critical success, but had only moderate sales. The follow-up The Smoker You Drink, the Player You Get (1973) was marketed under Walsh's name (although officially a Barnstorm album) and was a commercial breakthrough. The first single "Rocky Mountain Way" received heavy airplay and reached #23 on the US Top 40 chart. In 1974 Barnstorm disbanded and Walsh continued as a solo artist.
In 1974 Walsh produced Dan Fogelberg's Souvenirs album and played the guitar, electric guitar, 12 string guitar, arp bass and provided backing vocals. He also contacted Graham Nash to sing harmony vocals on "Part Of The Plan", which helped send the album to #17 on the 1975 Billboard album chart.
In late 1974, Walsh played slide guitar on former Barnstorm band mate Joe Vitale's debut solo album Roller Coaster Weekend. In December 1974, Walsh released an official solo album, So What and in March 1976, a live set, You Can't Argue with a Sick Mind. These would be his last solo albums until 1978. In 1975, Walsh was invited to move to England and join Humble Pie, but he decided to decline the offer, And in late 1975 he joined the Eagles as Bernie Leadon's replacement, There was some initial concern as to Walsh's ability to fit in with the band, as he was considered too "wild" for the Eagles, especially by their lead vocalist Don Henley.. His addition steered the band toward a harder-edged sound and away from their early country-style work, and he was featured prominently on their multi-million-selling album Hotel California, co-writing the Top 20 hit "Life in the Fast Lane" (with Don Henley and Glenn Frey).
As the Eagles struggled to record the follow-up to Hotel California, Walsh re-ignited his solo career with the well-received album But Seriously, Folks… (1978) which featured his hit comic depiction of rock stardom, "Life's Been Good". Walsh also contributed "In the City" to The Warriors soundtrack (1979), a song penned and sung by Walsh that was later rerecorded for the Eagles The Long Run album.
1980s and 1990s
Walsh performing live in 1975
Following the breakup of the Eagles in 1980, Walsh continued to release solo albums throughout the 1980s, but sales were mostly poor. So he maintained a low profile until the mid-1990s. In 1981 Walsh and former Barnstorm bandmate, Joe Vitale went to work on old friend John Entwistle's fifth solo album Too Late the Hero, whenever they were to free to record it, the album turned out to become John Entwistle's best-charting solo album of his whole solo career, with hit singles "Talk Dirty" and "Too Late the Hero". Then in late 1984 Walsh was contacted by Australian musician Paul Christie, the former bassist in Mondo Rock, who invited him to come to Australia to perform with the Party Boys, an all-star group with a floating membership of well-known Australian rock musicians, which included acclaimed guitarist Kevin Borich, with whom Walsh became good friends. Walsh accepted and performed with the Party Boys on their late 1984-early 1985 Australian tour and appeared on their live album You Need Professional Help. He remained in Australia for some time after the tour, putting together the short-lived touring group Creatures From America, with Waddy Wachtel (guitar), Rick Rosas (bass) and Australian drummer Richard Harvey (Divinyls, the Party Boys). Walsh returned to Australia in 1989 to tour with another incarnation of the Party Boys. Walsh toured with Ringo Starr in 1989, alternating a handful of his best-known songs with Ringo's tunes, as did all the members of the "All Starr" band. In 1989, Walsh recorded a MTV Unplugged with the R&B musician Dr. John. Also in 1989 Walsh filmed a live concert from the Wiltern Theater in Los Angeles with Etta James and Albert Collins. 'Jazzvisions: Jump The Blues Away'.
While producing their Homegrown album in 1989, Walsh briefly joined New Zealand reggae band Herbs. Although he had left by the time of its 1990 release, he still appears as lead vocalist on two tracks, "Up All Night" and "It's Alright", and the album includes the first recording of his "Ordinary Average Guys" (sung by late Herbs bassist Charlie Tumahai), which subsequently became a solo hit for Walsh as "Ordinary Average Guy".
In late 1990, Walsh was part of a band called the Best, along with keyboardist Keith Emerson, bassist John Entwistle, guitarist Jeff "Skunk" Baxter and drummer Simon Phillips. The band performed several shows in Hawaii and Japan, with a live video resulting.
In 1994, Walsh reunited with the Eagles for a highly successful reunion tour and live album, Hell Freezes Over. Walsh has toured regularly with the Eagles since then and the group released their first new studio album in 28 years, Long Road Out of Eden, in 2007. He sang the US National Anthem at the beginning of game five of the 1995 World Series.
2000s and 2010s
In June 2004, Walsh performed at Eric Clapton's Crossroads Guitar Festival in Dallas, Texas. He was also featured in September 2004 at The Strat Pack, a concert held in London, England to mark the 50th anniversary of the Fender Stratocaster guitar.
In 2006, Walsh reunited with Jim Fox and Dale Peters of the James Gang for a 15-date summer reunion tour. The tour lasted into the fall.
Walsh's song "One Day At A Time" deals with his struggles with alcoholism. He has been in recovery since 1995.
In 2008, Walsh appeared on the Carvin 60th Anniversary Celebration DVD as a celebrity endorser. In the recorded interview, he highly praised Carvin guitars and claims that the bridge design is "just like the first Les Paul models. I can't even get Gibson to reissue it."
Walsh has been a contributor to such causes as halfway houses for displaced adult women in Wichita, Kansas.
Walsh ran for President of the United States in 1980 on top of his music career as a mock campaign. He promised to make "Life's Been Good" the new national anthem if he won, and ran on a platform of "Free Gas For Everyone." Though Walsh was not old enough to actually assume the office, he wanted to raise public awareness of the election. In 1992 Walsh ran for vice president with Rev. Goat Carson under the slogan "We Want Our Money Back!".
In May 2012, Walsh was awarded an honorary doctorate from Berklee College of Music.
Walsh's Analog Man, was released on June 5, 2012. The album was co-produced by Jeff Lynne, with Tommy Lee James co-writing some of the album's tracks.
Notable appearances
Walsh performing live with the Eagles in 2009.
Walsh has produced albums for artists such as Dan Fogelberg and Ringo Starr. He was a background musician (1st guitar solo) on Eagles bandmate Don Henley's 1982 hit "Dirty Laundry" (listed as such in the liner notes of I Can't Stand Still and Actual Miles: Henley's Greatest Hits). Walsh played guitar throughout Who bassist John Entwistle's 1981 solo album Too Late The Hero. Walsh has also contributed to albums by: America, REO Speedwagon, Andy Gibb, Wilson Phillips, Emerson, Lake & Palmer and Steve Winwood, and on the Richard Marx hit "Don't Mean Nothing".
Onscreen Walsh has appeared in: The Blues Brothers, RoboCop, Promised Land, The Drew Carey Show, Duckman, MADtv, Rock the Cradle and Zachariah.
Kent State University awarded Walsh an honorary degree in music in December 2001
In October 2004, Walsh undertook speaking engagements in New Zealand to warn against the dangers of substance abuse. He said the visit was a "thank you" to people who took him to Otatara Pa when he toured New Zealand with reggae band Herbs while under heavy alcohol and cocaine addictions in 1989, an experience he has cited as the beginning of a long journey back to health. At Otatara Pa in 2004 Walsh said, "This is a special place, and it is very special to me. It was here on a visit many years ago, up on the hills, that I had a moment of clarity. I don't understand it, but I reconnected with my soul, and I remembered who I used to be. I admitted I had problems and I had to do something about it. It was the beginning of my recovery from my addiction to alcohol and drugs, and when I got back to America it gave me the courage to seek help."
On February 12, 2012, Walsh appeared on stage with Paul McCartney, Bruce Springsteen, Dave Grohl, and McCartney's band at the Staples Center in Los Angeles to close out the Grammy Awards show.
Walsh was a regular guest deejay on the Los Angeles radio station, KLOS during the mid-1980s. They had a Saturday evening feature, with celebrity guest-hosts taking over the mic (Walsh was the guest host far more frequently than any other). He was also a frequent guest and guest-host of Detroit & Chicago radio personality Steve Dahl.
Walsh also appeared on the 60th Episode of Live From Daryl's House with Daryl Hall, which premiered on November 15, 2012.
On February 9, 2014, Walsh was featured in several songs on the CBS special "The Beatles: The Night That Changed America – A Grammy Salute".
Influences
Walsh cites Jimi Hendrix, B.B. King, Chuck Berry, Little Richard, Eric Clapton, The Rolling Stones, The Beach Boys, Jeff Beck, The Beatles, Led Zeppelin, Deep Purple, Manfred Mann, and the Faces as his influences. And in turn he has influenced Dan Fogelberg, Maroon 5, Kenny Chesney, Jonny Lang, The Fabulous Thunderbirds, and George Thorogood
Personal life
Joe Walsh, WB6ACU, on ham radio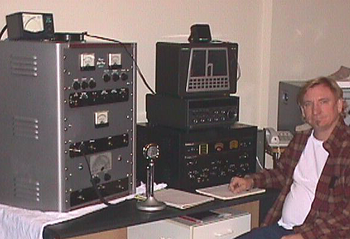 Walsh holds an Amateur Extra Class Amateur Radio License. His station call sign is WB6ACU.In 2006 he donated an autographed guitar to the ARRL in Newington, Connecticut for its charity auction. He has also been involved with the group's "Big Project," which brings amateur radio into schools. Walsh has included Morse Code messages in his albums on two occasions: once on the album Barnstorm ("Register and Vote"), and later on Songs for a Dying Planet ("Register and Vote for Me").
Walsh married Marjorie Bach (sister of Barbara Bach and sister-in-law of Ringo Starr) in Los Angeles on December 13, 2008. Walsh's daughter, Lucy Walsh, is also a musician; she has worked with Ashlee Simpson and others, and she released her debut solo album, Lost in the Lights, in spring 2008.
Walsh's eldest daughter, Emma Kristen, was born in 1971 and died in 1974 at only 3 years old, as a result of injuries suffered in an auto-mobile accident on her way to nursery school. Her story inspired the track "Song For Emma" on his first solo album So What released later that year. In her memory, he had a fountain and memorial plaque placed in a park in which she played: North Boulder Park in Boulder, Colorado, He has said that the album name ("So What") was a result of Emma's death – that nothing else seemed meaningful or important in the months that followed. The strain would eventually contribute to Walsh's divorce from his second wife Stephanie (Walsh had already been briefly married in the sixties to a lady named Margie). While touring with singer Stevie Nicks in 1984, Walsh took Nicks to the park's fountain; Nicks subsequently immortalized this story in her song "Has Anyone Ever Written Anything For You" on her 1985 album Rock A Little. Nicks stated in a 2007 interview with the UK's The Daily Telegraph that Walsh had been "the great love of her life."
In 1994, Walsh noted that he woke up after blacking out when arriving in Paris, France on an airplane. He had his passport, but did not remember getting on the plane. That was his turning point and he has been sober ever since.
Running for Congress
Walsh had often joked about running for office, announcing a presidential campaign in 1980 and a vice presidential campaign in 1992; however, in an interview to promote his solo album Analog Man in 2012, he revealed he was considering a serious bid for political office. "I think I would run seriously, and I think I would run for Congress," Walsh told WASH (FM) in Washington DC. "The root of the problem is that Congress is so dysfunctional. We're dead in the water until Congress gets to work and passes some new legislation to change things."
Joseph Fidler Walsh
Average Joe
Rock,
hard rock
folk rock
blues rock
country rock
southern rock
electric blues
reggae fusion
new wave
Musician
multi-instrumentalist
producer
actor
Lead vocals
guitar
keyboards
drums
bass
mandolin,
clarinet
oboe
bagpipes
talk box
organ
Backing vocals
November 20, 1947  Wichita, Kansas, United States
Solo albums
The Smoker You Drink, the Player You Get (1973)
So What (1975)
But Seriously, Folks… (1978)
There Goes the Neighborhood (1981)
You Bought It – You Name It (1983)
The Confessor (1985)
Got Any Gum? (1987)
Ordinary Average Guy (1991)
Songs for a Dying Planet (1992)
Analog Man (2012)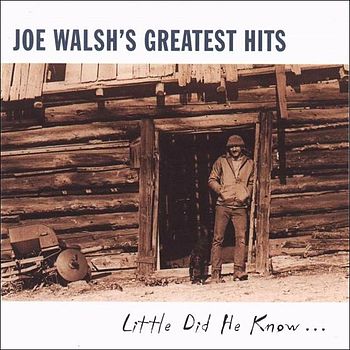 1973 "Rocky Mountain Way"  — — The Smoker You Drink, The Player You Get
1974 "Meadows"
1975 "Turn to Stone" — — So What
1976 "Walk Away" — — You Can't Argue with a Sick Mind
1977 "Rocky Mountain Way" — —  Rocky Mountain Way EP
1978 "Life's Been Good" ; "Over and Over"  — But Seriously Folks…
1979 "Turn to Stone" — — The Best of Joe Walsh
1980 "All Night Long" — — Urban Cowboy Soundtrack
1981 "A Life of Illusion" — There Goes The Neighborhood
1983 "Space Age Whiz Kids" | "I Can Play That Rock & Roll" — You Bought It, You Name It
1985 "The Confessor" — — The Confessor
1987 "The Radio Song" | "In My Car" —— Got Any Gum?
1991 "Ordinary Average Guy" | "All of a Sudden" —— Ordinary Average Guy
1992 "Vote for Me" —— Songs for a Dying Planet
"Look at Us Now" and "The Friend Song"
Half of the Time" and "No Peace in the Jungle" (1987)
Life Of Illusion
Life's Been Good
Rocky Mountain Way
In the City
Joe Walsh – Live From Daryl's House 11.15.2012
The Confessor
Asylum
Epic
ABC
Probe
Warner Bros
Full Moon
Atlantic
MCA
Fantasy
Eagles (1975 – 1980)
James Gang (1996 – 1971)
Ringo Starr & His All-Starr Band (1989 – 1992)
Barnstorm (1972 – 1974)
The Party Boys
Herbs (Since 1979)
James Gang
Barnstorm
Eagles
Ringo Starr & His All-Starr Band
John Entwistle
The Beach Boys
The Strat Pack
The Party Boys
The Who
Related articles