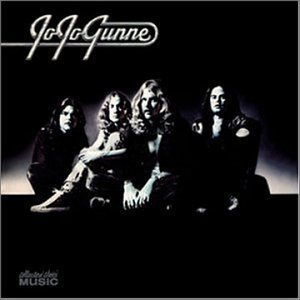 Jo Jo Gunne is a rock band, formed in Los Angeles, California, in 1971 by Jay Ferguson (keyboards, vocals and guitar) and Mark Andes (bass guitar and vocals) after they had left Spirit. The group's name is derived from "Joe Joe Gun", a Chuck Berry song that peaked at #83 as a single in November 1958.
With the addition of Andes' brother, Matt Andes (born Feb 6, 1949, California) (guitar, vocals) and William "Curly" Smith (born 31 January 1952, Wolf Point, Montana) (drums, vocals and harp), they were signed to Asylum Records.
Jo Jo Gunne had a Top 10 hit in the UK Singles Chart with the song, "Run Run Run", taken from their first album, Jo Jo Gunne (1972), which peaked at 27 in U.S. charts, and received airplay on U.S. album-oriented rock FM radio stations. The group did not maintain the commercial momentum of their first release. With Jumpin' the Gunne's tasteless album cover being blamed for drastically falling sales, they broke up in 1975. However they made several notable tracks, especially "Take It Easy", "Broken Down Man", "Neon City" and "Falling Angel".
Personnel changes
Following the first album, Mark Andes left the band and was replaced by Jimmie Randall. Randall introduced a brighter bass sound and helped increase the band's overall volume.
Matt Andes left after Jumpin' the Gunne, and he was briefly replaced by Star Donaldson. A more permanent replacement was found in John Staehely (born 25 January 1952, Austin, Texas), who had played on Feedback, the Spirit album that followed Ferguson and Ande's departure. Staehely's overdriven guitar was a complete change from Matt Andes's Ry Cooder style slide guitar.
After the band broke up, Ferguson recorded several solo albums, including the hit singles "Thunder Island" and "Shakedown Cruise", and scored TV shows and mostly non-notable movies. Andes joined Firefall and, later, Heart. Smith went on to have a successful career as a session drummer, and also played with Spirit in the 1980s and Boston from 1994 to 2000.
Reunion
The original line-up reformed in 2005, and began recording again, with the help of devoted friend Steve Lukather. Although the group ultimately failed to return to the stage, their bootlegged recordings from this period are cherished by fans for the wicked slide of guitarist Matt Andes, and the off-beat writing of the group, contributed mainly by Jay Ferguson.
Pop/Rock
Album Rock
Hard Rock
Contemporary Pop/Rock
Curly Smith
Jay Ferguson
Jimmie Randall
John "LBJ" Staehely
Mark Andes
Matt Andes
Jo Jo Gunne (1972)
Bite Down Hard (1973)
Jumpin' The Gunne (1973)
So…Where's The Show? (1974)
Big Chain (2005)
Run Run Run 1972 Jo Jo Gunne
Shake That Fat 1972 Jo Jo Gunne
Special Situations 1973 Bite Down Hard
Falling Angel 1974 So…Where's the Show?
To the Island 1973 Jumpin' the Gunne
Monkey Music 1973 Jumpin' the Gunne
Where Is the Show? 1974 So…Where's the Show?
Rock Around the Symbol 1973 Bite Down Hard
Cheap Shot 2005 Big Chain
I Make Love 1972 Jo Jo Gunne
Take It Easy 1972 Jo Jo Gunne
At the Spa 1973 Jumpin' the Gunne
Into My Life 1974 So…Where's the Show?
Flying Home 1972 Jo Jo Gunne
Turn the Boy Loose 1973 Jumpin' the Gunne
Wait a Lifetime 1973 Bite Down Hard
S&M Blvd. 1974 So…Where's the Show?
Neon City 1973 Jumpin' the Gunne
Big Busted Bombshell from Bermuda 1974 So…Where's the Show?
60 Minutes to Go 1973 Bite Down Hard
High School Drool 1973 Jumpin' the Gunne
Single Man 1974 So…Where's the Show?
Around the World 1974 So…Where's the Show?
Before You Get Your Breakfast 1973 Jumpin' the Gunne
I Wanna Love You 1973 Jumpin' the Gunne
Be Careful What You Wish For 2005 Big Chain
Ready Freddy 1973 Bite Down Hard
Academy Award 1972 Jo Jo Gunne
Barstow Blue Eyes 1972 Jo Jo Gunne
I'm Your Shoe 1974 So…Where's the Show?
Screaming Mimi
Red Meat 1973 Jumpin' the Gunne
Run Run Run 
take me down easy 1973
Shake That Fat 
babylon
Special Situations (Live)
Broken Down Man
http://www.jojogunne.com/
http://www.discogs.com/artist/357103-Jo-Jo-Gunne
http://www.allmusic.com/artist/jo-jo-gunne-mn0000133528
https://www.facebook.com/pages/JO-JO-GUNN/269553403688
https://myspace.com/jojogunneofficial/music/songs
Related articles