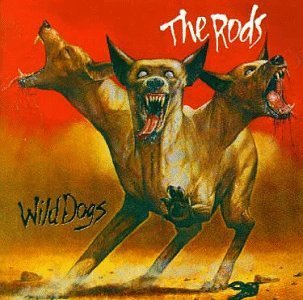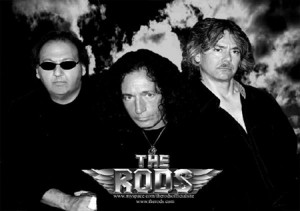 The Rods are an American heavy metal band formed in 1978 by David "Rock" Feinstein (guitar and vocals), Steven Starmer ([bass guitar] and vocals), who was later replaced by Garry Bordonaro (bass and vocals) after the first two albums, and Carl Canedy (drums and vocals). Feinstein had first come to mainstream attention after playing in Elf, with his cousin Ronnie James Dio. The Rods sound differed considerably from Elf, adopting a more traditional heavy metal sound compared with the blues-rock sound that Elf preferred. Their first album was originally released independently as Rock Hard in 1980 and the following year the band was signed by Arista Records, who reordered the album tracks and released it simply titled The Rods.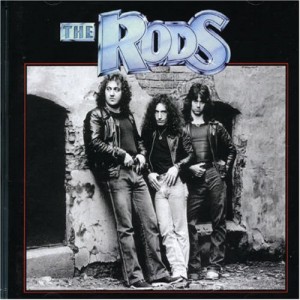 Their second album Wild Dogs followed in 1982 and was re-released in 2004. The Rods' third album, released 1983, was entitled In the Raw. In 1984 Canedy and Bordonaro played on Jack Starr's album Out of the Darkness with Rhett Forrester of Riot and Gary Driscoll of Rainbow. Then in 1984 The Rods made their fourth studio album Let Them Eat Metal and recorded the album The Rods Live. Their album Heavier Than Thou was originally released in 1986.
An album was also released that features all of the band's members, entitled Hollywood – Canedy, Feinstein, Bordonaro, & Caudle. Canedy is also a producer of heavy metal bands, and his credits include Anthrax's Armed and Dangerous and Spreading the Disease, Exciter's Violence & Force, Overkill's Feel the Fire, and Possessed's Beyond the Gates All involved soon moved onto other, mostly low-key projects, with Canedy continuing to focus on his production work while Feinstein kept playing with several underground bands (most notably A la Rock, which actually released an album in 1990), before switching gears to become a restaurant owner in New York City. It was therefore quite unexpected when the guitarist made another comeback with a nondescript solo album in the year 2000, and then launched a new power metal group named simply Feinstein via 2003's Third Wish CD.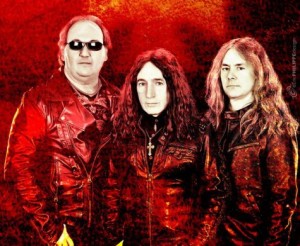 Even more surprising, 2008 saw the original Rods reuniting for a special performance at the Metal Rock Fest in Lillehammer, Norway. Shortly afterwards, the band went back to the studio together for the first time in over twenty years, and in 2011 released their sixth album as The Rods, Vengeance. In 2008 the Rods announced that they were reuniting. In August 2008 they played at the Metal Rock Fest in Lillehammer, Norway to support a new album
Pop/Rock
Speed/Thrash Metal
Carl Canedy
Andy MacDonald
Gary Bordonaro
Rick Caudle
David "Rock" Feinstein
Stephen Starmer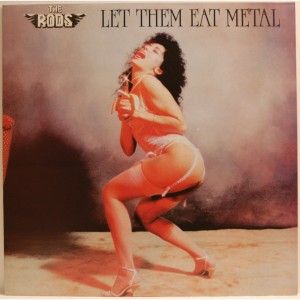 Rock Hard (1980)
The Rods (1981)
Wild Dogs (1982)
In the Raw (1983)
The Rods Live (1984)
Let Them Eat Metal (1984)
Heavier Than Thou (1986)
Hollywood Project (1986) – as Canedy, Feinstein, Bordonaro, & Caudle
Vengeance (2011)
[youtube]http://www.youtube.com/watch?v=LoBGcbLhqW4[/youtube]
the rods hurricane
[youtube]http://www.youtube.com/watch?v=cIGCAGRbEVE[/youtube]
THE RODS
[youtube]http://www.youtube.com/watch?v=m7tLzQgiZ-A[/youtube]
Let Them Eat Metal 1984 Full Album
[youtube]http://www.youtube.com/watch?v=jqfQ3066x6w[/youtube]
Show Completo – Inferno Club – 28 Julho 2013 – São paulo
[youtube]http://www.youtube.com/watch?v=_ydn-UkI-pM[/youtube]
The Code (feat. Ronnie James Dio)
[youtube]http://www.youtube.com/watch?v=dW_UhmB-nIA[/youtube]
Wild Dogs
[youtube]http://www.youtube.com/watch?v=OOSi6SQ1_tI[/youtube]
You Keep Me Hangin' On (The Supremes cover)
Primal Music

Ais

High Vaultage

Combat Records 

Niji
Related articles