Harry Belafonte originally wanted to put together a benefit concert featuring black musicians to raise money for Africa. Ken Kragen (who became president of the organization United Support of Artists for Africa) thought an American version of "Band Aid" would be a better idea. Ken Kragen is an owner of a personal management and television production company. One of his clients was Lionel Ritchie, so he called him with the idea. Lionel's wife talked to Steve Wonder's wife and arranged to line him up for the song.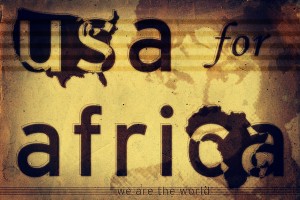 Quicy Jones was lined up as the producer, and Michael Jackson and Lionel Ritchie were the song writers. The recording took place on the night of the American Music Awards, January 28th, 1985. This was the perfect way to assure that most of the artists would all be free on a single date.
The instrumental tracks were recorded ahead of time and sent out to the interested musicians. With each tape, he sent a letter that stated they should "check their ego at the door." When they arrived in the studio, there was a piece of tape on the floor for each person to stand on, arranged around six microphones in a semi-circle.
800,000 copies arrived in stores on Tuesday, March 7th 1985. There were sold out by the first weekend. It entered the Billboard Hot 100 on March 23rd, at number 21. At the time it was the highest debuting single since John Lennon's "Imagine" and was number one in three weeks, which at the time was the fastest rising chart-topper since Elton John's "Island Girl" in 1975. It was the eighth consecutive year the Lionel Ritchie had written a number one song. It won Grammys in 1985 for Song of the Year and Record of the Year.
Dan Aykroyd (The only Canadian, and one of two non-US performers)

Harry Belafonte

Lindsey Buckingham (of 

Fleetwood Mac

)

Kim Carnes

Ray Charles

Bob Dylan

Sheila E.

Bob Geldof (The only member of Band Aid, only Irishman, and one of two non-US performers)

Hall & Oates (

Daryl Hall and John Oates

)

James Ingram

Jackie Jackson

La Toya Jackson

Marlon Jackson

Michael Jackson

Randy Jackson

Tito Jackson

Al Jarreau

Waylon Jennings

Cyndi Lauper

Huey Lewis and the News

 (Sean Hopper, Bill Gibson, 

Johnny Colla

, Mario Cipollina, and Chris Hayes)

Kenny Loggins

Bette Midler

Jeffrey Osborne

David Paich (of Toto)

Steve Perry (then-lead singer of Journey)

Steve Porcaro (of Toto)

Lionel Richie

Smokey Robinson

Kenny Rogers

Paul Simon

Bruce Springsteen

Stevie Wonder
Year /Song Title /Highest US Chart Position
We Are the World (USA for Africa)

If ONLY for the Moment, Girl (Steve Perry)

Just a Little Closer (Pointer Sisters)

Trapped (

Bruce Springsteen & The E Street Band

)

Tears Are Not Enough (Northern Lights)
There comes a time when we heed a certain call (Lionel Richie)
When the world must come together as one (Lionel Richie & Stevie Wonder)
There are people dying (Stevie Wonder)
Oh, and it's time to lend a hand to life (Paul Simon)
The greatest gift of all (Paul Simon/Kenny Rogers)
We can't go on pretending day by day (Kenny Rogers)
That someone, somehow will soon make a change (James Ingram)
We're all a part of God's great big family (Tina Turner)
And the truth (Billy Joel)
You know love is all we need (Tina Turner/Billy Joel)
( CHORUS )
We are the world, we are the children
We are the ones who make a brighter day so let's start giving (Michael Jackson)
There's a choice we're making we're saving our own lives (Diana Ross)
It's true we'll make a better day just you and me (Michael Jackson/Diana Ross)
Well, send'em you your heart so they know that someone cares (Dionne Warwick)
And their lives will be stronger and free (Dionne Warwick/Willie Nelson)
As God has shown us by turning stone to bread (Willie Nelson)
And so we all must lend a helping hand (Al Jurreau)
( REPEAT CHORUS )
We are the world, we are the children (Bruce Springsteen)
We are the ones who make a brighter day so let's start giving (Kenny Logins)
There's a choice we're making we're saving our own lives (Steve Perry)
It's true we'll make a better day just you and me (Daryl Hall)
When you're down and out there seems no hope at all (Michael Jackson)
But if you just believe there's no way we can fall (Huey Lewis)
Well, well, well, let's realize that a change can only come (Cyndi Lauper)
When we (Kim Carnes)
stand together as one (Kim Carnes/Cyndi Lauper/Huey Lewis)
(REPEAT CHORUS AND FADE )
(additional ad-lib vox by Bob Dylan, Ray Charles, Stevie Wonder, Bruce Springsteen, James Ingram)
Related articles