Formed in Miami, FL in 1988. Released eponymous debut album in 1991 to much critical acclaim, but went largely unnoticed by the public. Their sound was described as heavy metal-meets-Beatles-harmony, as their music was crunchy and heavy, while many of their vocal arrangement were greatly harmonized. They flourished during the grunge era without playing grunge music. Released The Lizard in 1992, which gave them a hit song in "Love Is on the Way", eventually reaching # 12 on the charts.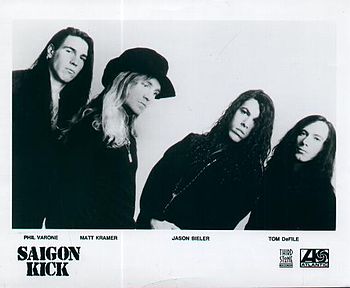 Bassist DeFile left before the release of Water in 1993, as did vocalist Matt Kramer. Guitarist Jason Bieler then handled the vocals for Water as well as the 1994 release Devil in the Details. Bastards followed in 1998.
Jason Bieler eventually left to form his own group called Super TransAtlantic, while the other original three reunited at one point for some live shows featuring ex-Slaughter guitarist Jeff Blando. Drummer Phil Varone took over in Skid Row in 2003, while Matt Kramer is pursuing a solo career.
In 2012 the band announced that the original line-up had reunited for some live shows, and possibly some new music. Tom DeFile has since abandoned the project due to continuing drug addiction and the band will carry on with Chris McLernon on bass.
Hard Rock
Alternative Metal
Alternative Rock
Pop/Rock
glam metal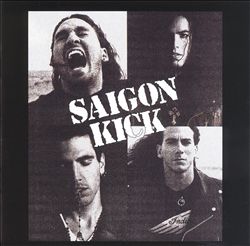 1991 Saigon Kick
1992 The Lizard
1993 Water
1995 Devil in the Details
1999 Bastards
2000 Greatest Hits Live
Love Is on the Way 1992 The Lizard
I Love You 1993 Water
Body Bags 1992 The Lizard
The Lizard 1992 The Lizard
Water 1993 Water
Hostile Youth 1992 The Lizard
What You Say 1991 Saigon Kick
The One 2000 Devil In the Details
My Life 1991 Saigon Kick
The Way 1993 Water
Coming Home 1991 Saigon Kick
Spanish Rain 1995 Devil In the Details
Space Oddity 1993 Water
When You Were Mine 1993 Water
Hey Hey Hey
On and On 1993 Water
Spidee the Rapist
Love of God 1991 Saigon Kick
Sentimental Girl 1993 Water
Going On 1995 Devil In the Details
My Dog 1992 The Lizard
My Heart Screams
All Around 1995 Devil In the Details
Ugly 1991 Saigon Kick
New World 1991 Saigon Kick
Jehovah 2000 Bastards
You and I
One Step Closer 1993 Water
Torture 1993 Water
Salvation
So Painfully 1995 Devil In the Details
Solitary Jerk 2000 Bastards
Third Stone
Atlantic
CMC International
Related articles