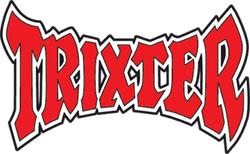 TRIXTER was formed in 1983 in Paramus, New Jersey by STEVE BROWN & PETER LORAN. After a year in the basement and the addition of new drummer, MARK GUS SCOTT, they played their first live gigs. They began play ing the NJ / NY club scene and built a huge following of fans. In 1988 bassist, PJ FARLEY, joined TRIXTER finalizing the line up.With every gig the band was drawing more & more people to their shows and by May of 1989 the band landed a deal with MECHANIC/MCA RECORDS.
September of 1989 the band went to Hollywood to record the debut album with producer , BILL WRAY. TRIXTER was released in May of 1990 with the song" LINE OF FIRE" as the single for ROCK RADIO.The song slowly climbed the charts reaching #1 on Z-ROCKS Top 100 by July of 1990. Along with the release of the album TRIXTER also filmed their first video for the song GIVE IT TO ME GOOD. In September the band headed out a nationwide tour and after two weeks they landed the opening slot for, STRYPER.From New York to Seattle , the band rocked clubs and theaters earning tons of fans who were captivated by their high energy live shows.In Mid October TRIXTER joined DON DOKKEN for another tour around the USA. It was on this tour that MTV added the video for GIVE IT TO ME GOOD. Within one week the video was #1 on the popular DIAL MTV top ten video countdown. The video stayed #1 for 5 weeks straight.The crowds were getting bigger and record sales started kicking into high gear.
In December of 1990 TRIXTER filmed the video for the 2nd single, ONE IN A MILLION, at a Sold Out show in Rockland County, NY. The band also recorded a song , ONE MO TIME, for the film IF LOOKS COULD KILL. The song featured Rock legend, EDGAR WINTER, on Saxaphone.By January 1991 the record was selling 20,000 units per week. The video for ONE IN A MILLION went #1 on MTV for 3 weeks. The album peaked at # 28 on BILLBOARDs TOP 200 ALBUM CHART and the single for GIVE IT TO ME GOOD was a TOP 50 H IT on BILLBOARDs TOP 100 SINGLES CHART. TRIXTER did their 1st ever arena shows opening for POISON and then headed out on a 5 month North American Tour with the legendary German rockers, THE SCORPIONS.As ONE IN A MILLION rocked MTV ,the single also went TOP 40 on BILLBOARD. In February ,the band flew to Daytona , Florida to do MTVS SPRING BREAK and soon after MCA records gave the band some incredible news. Backstage at Irvine Meadows Amphitheater in California, the boys were told that their debut album had gone GOLD selling over 500,000 copies. In April of 1991 TRIXTER played their hometown MEADOWLANDS ARENA, where they were presented with GOLD ALBUMS at a special after show party. In May they filmed the video for the 3rd single,SURRENDER.By June TRIXTER started the BLOOD,SWEAT & BEERS TOUR with WARRANT & FIREHOUSE.Around this time the popular rock magazine, METAL EDGE, dedicated an entire issue to the band, THE TRIXTER COLOR SPECTACULAR.The video and single for SURRENDER were released and once again the video went to # 1 on MTV for 2 weeks and the single went TOP 100 in BILLBOARD.
In September of 1991 the BLOOD, SWEAT & BEERS TOUR was filmed for a Pay Per View special.October marked the end of the TRIXTER touring cycle for the very successful debut album. By years end the band racked up worldwide sales of 750,000, 3 #1 MTV videos, 3 TOP 100 SINGLES, HIT PARADER MAGAZINES BEST NEW BAND AWARD for 1991, METAL EDGE READERS POLL BEST CONCERT FOR THE BLOOD , SWEAT & BEERS Tour , and GIVE IT TO ME GOOD was in MTVS TOP 100 VIDEOS OF 1991.TRIXTER also wound up in the movies.Their song LINE OF FIRE was on the soundtrack for the film MARIO BROS….WHITE KNUCKLE SCORIN and ONE MO TIME was on the soundtrack for the film IF LOOKS COULD KILL. In January 1992,TRIXTER began pre-production on the 2nd album. Also,during that time the band renegotiated their record deal and were signed directly to MCA records. TRIXTER chose JAMES JIMBO BARTON of RUSH & QUEENSRYCHE fame to produce. Recording began in April and lasted until August of 1992. The result was the stellar rock cd, " HEAR" .Released in October along with another Arena tour opening for long time idols, KISS, TRIXTER raged across North America supporting the new disc. "ROAD OF A THOUSAND DREAMS" did well on Radio .January 1993, they shot a video for the next single," ROCKIN HORSE " and began a headlining club tour called THE HEAR CLUB FOR MEN TOUR. May of that year had TRIXTER embarking on a tour of Japan. "HEAR" was doing very well in the Land of the Rising Sun, so the band was invited over to do 2 shows and alot of promotion.The shows in OSAKA at Moda Hall and KAWASAKI at Club Citta were very successful. The boys had a great time. TRIXTER finished the HEAR tour in late June of '93 in front of 5,000 screaming fans at Milwaukees Summerfest. In 1994 the band recorded the UNDERCOVERS EP in STEVE BROWNs home studio. This was a cd of all cover songs that was released in Oct. 1994 on the indie label , BACKSTREET RECORDS. Once again the band headed out on the road again across America. No matter how tough things got the band kicked ass and the shows were more often like a big keg party opposed to the typical rock show. Still to this day ,TRIXTER, has fans all around the world and the music still gets airplay. In 1999 the band was featured on VH-1s WHERE ARE THEY NOW and in 2000 they were voted # 29 on VH-1's TOP40 HAIR BAND COUNTDOWN. The songs are on various rock compilation cds: GIVE IT TO ME GOOD is on GLAM ROCK VOL. 2 , ONE IN A MILLION is on ROCK OF THE 80S and SURRENDER is on HARD LOVE, and that was only the beginning.
Hard Rock
Glam Metal
Rock
Peter Loran (vocals)
Steve Brown (guitar, vocals)
P.J. Farley (bass, vocals)
Mark "Gus" Scott (drums, percussion, vocals)

Tom Coombs

Michael "Mike" Luciano (Bob Feldman)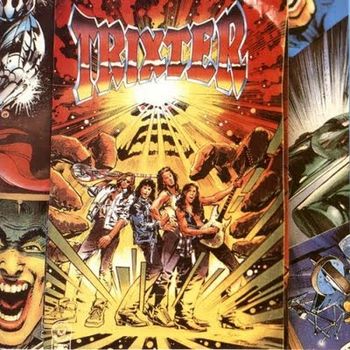 Trixter (1990, MCA); US chart peak: 28[2]; US sales certification: Gold[3]
Hear! (1992, MCA); US chart peak: 109[4] (100,000 copies in the US)
Undercovers (1994, Backstreet)
Alive in Japan (2008, Mojo Vegas)
Best Of Trixter (2009, Mojo Vegas)
New Audio Machine (2012, Frontiers Records)
Give It to Me Good 1990 Trixter
Surrender 1990 Trixter
One in a Million 1990 Trixter
Tattoos & Misery 2012 New Audio Machine
Walk With a Stranger 2012 New Audio Machine
On and On 1990 Trixter
Road of a Thousand Dreams 1992 Hear!
Machine 2012 New Audio Machine
Rockin' Horse 1992 Hear!
Live for the Day 2012 New Audio Machine
Sitting on Top of the World
Heart of Steel 1990 Trixter
Physical Attraction 2012 New Audio Machine
As the Candle Burns 1992 Hear!
Wild Is the Heart 1992 Hear!
Take the Long Way Home 1994 Undercovers
Fight for Your Right 1994 Undercovers
Revolution 1994 Undercovers
Pump It Up 1994 Undercovers
Damn Good 1992 Hear!
The Coolest Thing 2012 New Audio Machine
Nobody's a Hero 1992 Hear!
You'll Never See Me Cryin' 1990 Trixter
Terrible Lie 1994 Undercovers
You Got It
On the Road Again 1992 Hear!
What It Takes 1992 Hear!
Ride 2012 New Audio Machine
Get on It 2012 New Audio Machine
One Mo' Time
When You Close Your Eyes
Bloodrock 1992 Hear!
Related articles