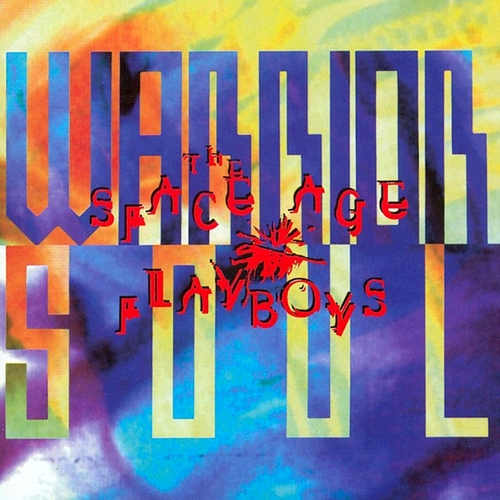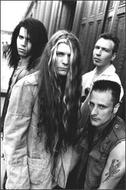 Warrior Soul is an American hard rock band formed by lead singer and producer Kory Clarke. Clarke started the band on a bet from a promoter at New York City's Pyramid Club, after a solo performance art show called "Kory Clarke/Warrior Soul". Clarke boasted he would have the best rock band in the city within six months. Nine months later he signed to Geffen Records for a million dollar
Geffen directed Clarke to shed his hired band and get new players.
Clarke insisted on keeping Pete McClanahan as his bass player, and recruited guitarist John Ricco and former Killing Joke drummer Paul Ferguson.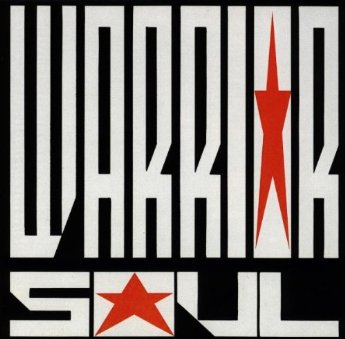 The band began to play in New York City in 1987, releasing their debut album in 1990.
By the time the band recorded their second album, Drugs, God, and the New Republic, Ferguson had been replaced by Mark Evans. The band toured the album heavily, including an opening slot on Queensrÿche's world tour (with whom they shared management in the Q Prime agency). After their third album and fourth album the band left Geffen, and lineup changes ensued. Longtime guitarist Ricco was ousted, replaced by two guitarists: Alexander Arundel (aka X-Factor) and Chris Moffet (former Cycle Sluts from Hell lead guitarist) Not long after Mark Evans and Chris Moffet departed. At that time former Nuclear Assault/Cities/Cycle Sluts from Hell drummer Scott Duboys joined the band. The line-up of Clarke, Arundel, McClanahan and Duboys recorded 1995's The Space Age Playboys, and then added additional guitarist Peter Jay prior to touring the U.K and Europe extensively in support of the album, which despite being Lars Ulrich from Metallica's favourite album, did not take the band to the next level as most had imagined. While touring in support of their Space Age Playboys recording, Warrior Soul headlined the 1995 Kerrang! U.K. tour, as well as performing at the 1995 Dynamo Open Air festival, and also at the 1995 Donington Monsters of Rock concert.
After the performing their last live show in September of 1995, Arundel, Duboys and longtime bassist McClanahan quit the band, leading in short order to Clarke's decision to retire the band later that year. In 1996, Odds & Ends was released as a collection of demos recorded on an eight-track with XFactor, and leftover material that was originally intended for release on Elektra Records.
The "classic" lineup of Clarke, Ricco, McClanahan & Evans would later reunite in the studio to re-record 15 of the band's songs, released on Spitfire records as "Classics" in 2001. All Warrior Soul albums were remastered and re-released on cd and MP3 in 2006 and 2009, including with bonus material (mostly live songs originally released as b-sides). The first three albums were also re-released on vinyl in 2009.
Clarke says many of their songs are politically based, such as "Blown Away", "Superpower Dreamland", "In Conclusion", and "Children of the Winter." Clarke describes the band's sound as "acid punk", particularly their The Space Age Playboys album.
Drummer Mark Evans was murdered in London, UK in 2005.
Clarke took two years off after the band's breakup and release of The Space Age Playboys, and moved back to New York, forming the short-lived band Space Age Playboys. In 2004, he released a solo album, Opium Hotel on Cargo Records.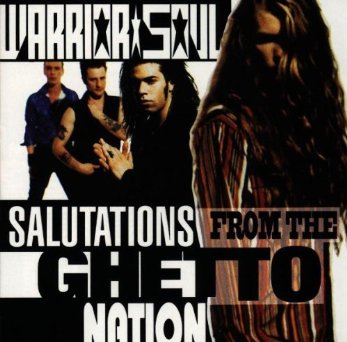 Soon after, Clarke was asked to join Dirty Rig as singer. He also co-produced their 2006 album Rock Did It. 2008 saw him join Chicago doom metal band Trouble on tour as lead singer and front man. Kerrang! magazine reviewed the show as KKKKK (5 Ks
In the later 2000s, Kory launched a new lineup of Warrior Soul, with new members Janne Jarvis (bass) and Rille Lundell (guitar). The band initially toured smaller venues through Europe, but by 2008 were touring larger UK venues, with shows at the Shepherds Bush Empire, London, and the O2 Academy Glasgow. The band also toured the UK with thrash metal band The More I See and released a live album, Live in England. In March, 2010, the band released a new album, Destroy The War Machine. Originally released in 2009 as "Chinese Democracy" as a taunt to the continually delayed release of the Guns and Roses album, the title was changed to avoid legal problems. In 2012, another new lineup released the studio album Stiff Middle Finger coproduced by Sue Gere and Kory Clarke, with Lundell still on guitar but joined by "Johnny H" and Xevi "Strings" Abellán, Danny Engstrom and Sue Gere on bass and drums by Freddie Cocker Kvarnebrink. Former band member John Ricco makes a guest appearance on guitar, as does The Mission guitarist Mark Gemini Thwaite. The band embarked on a month-long European tour in November of 2012, followed by a brief tour through the Eastern United States in December. As of 2013, Clarke lives in Berlin, Germany.
1987-1995
2001
2007-present
Kory Clarke
Rille Lundell
Freddie Cocker Kvarnebrink
XeviStrings
Sue Gere
John Ricco
Mark Evans   d 2005
Paul Ferguson
Pete McClanahan
X-Factor
Alexander Arundel
Chris Moffet
Scott Duboys
Peter Jay
Janne Jarvis
Danny Engstrom
(1990) Last Decade Dead Century
(1991) Drugs, God and the New Republic
(1993) Chill Pill
(1994 UK, 1995 US) The Space Age Playboys
(1996) Odds & Ends (also released under the title Fucker in Europe.)
(2000) Classics
(2008) Live in England
(2009) Destroy the War Machine (originally released as Chinese Democracy, also released as …And We Rock And Roll!)
(2012) Stiff Middle Finger
Blown Away
1/13/95 "The Losers" Rock The House, Wallington, NJ
The Losers
Downtown
We Cry Out
Hero
The Wasteland (with intro)
Fourth Reich
http://www.allmusic.com/artist/warrior-soul-mn0000243197/biography
http://www.famousinterview.ca/interviews/warrior_soul.htm
https://www.facebook.com/warriorsoulofficial
http://www.kory-clarke.com/
http://www.last.fm/music/Warrior+Soul
https://myspace.com/warriorsoulinfo
Related articles