1955: The Jacks / The Cadets

 The Cadets are an American doo wop group, formed in Los Angles in the late 40's. The group began as a gospel group, the Santa Monica Soul Seekers, in the late 1940s. The members were Lloyd McCraw, Willie Davis, Austin "Ted" Taylor, Aaron Collins, Glendon Kingsby, and Will "Dub" Jones.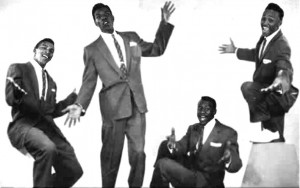 In 1955, the group auditioned for Modern Records, and were accepted.
The Cadets were among the more popular bands doing R&B covers. the Cadets' lone hit was "Stranded in the Jungle," which they recorded for Modern as the Jacks in 1956. It peaked at number eight R&B and number 15 pop.
At the end of the 1957, the group split. Collins and Davis joined The Flairs. Foxx became a guitar instructor and continues to give lessons out of his studio in Los Angeles, California; Jones joined The Coasters, while Taylor would enjoy solo success as a blues, soul, and gospel vocalist.. A few recordings were made with the Cadets name in 1960; this was Davis and Collins with the Flairs.
The group reformed in the late 1990s, with Davis, Foxx, Randy Jones, and Tommy Turner. This lineup appeared on the PBS special, Doo Wop 51. In 2001, while rehearsing for a show with the Doo Wop Society of Southern California, Jones had to be rushed to the hospital, requiring the other three to perform as a trio at the performance. Jones had suffered a stroke, and died thirteen months later. The group brought in new bass Ed Carter.
Rock and roll
doo wop
Early R&B
Aaron Collins  1930-1997
Lloyd McCraw   1915-1976
Ted Taylor    1937-1987
Will "Dub" Jones   1928-2000
Willie Davis    1932 – 2011
1958              The Cadets Meet the Jacks album review      Ace 
                         Why Don't You Write Me                                 Ace
Year /Song Title /Highest US Chart Position
Car Carsh – Joe Josea
Car Crash
Chapel of Love feat. Eileen Reid & The Cadets – Phil Spector / Jeff Barry / Ellie Greenwich
Church Bells May Ring – Morty Craft / Joe Martin / Richie Davis
Hands Across the Table
Heaven Help Me
I Cry
I Got Loaded – Peppermint Harris
I Want You – Joe Josea / 

Maxwell Davis

Let's Rock & Roll
Let's Rock and Roll
Little Rosa feat. Jimmy Day / The Cadets – Red Sovine / Webb Pierce
Love Bandit – 

Johnny "Guitar" Watson

Love Can Do Most Anything – George Matola / Joe Josea
Rollin' Stone
Royal Garden Blues feat. The Cadets – Clarence Williams
Sixty Minute Man
Smack Dab in the Middle – Chuck Calhoun
So Will I
Stranded in the Jungle – James Johnson / Ernestine Smith
True Love feat. Eileen Reid / The Cadets – Lee Porter / Cole Porter
Wiggie Waggie Woo
Smooth mix of R&B and Doo Wop from 1956 by The Cadets.
The Cadets – Church Bells May Ring (1956)
THE CADETS

 – Love Bandit [Modern/1012] 1957
Related articles