The Penguins were an American doo-wop group of the 1950s and early 1960s, best remembered for their only Top 40 hit, "Earth Angel (Will You Be Mine)", which was one of the first rhythm and blues hits to cross over to the pop charts. The song peaked at #8 on the Billboard Hot 100 chart, but had a three-week run at #1 on the R&B chart.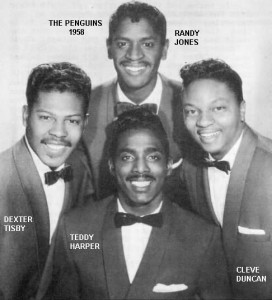 Duncan and Williams were former classmates at Fremont High School in Los Angeles, California, and Williams had become a member of The Hollywood Flames.
In late 1953, they decided to form a new vocal group, and added Tisby and Tate.
Their midtempo performance style was a cross between rhythm and blues and rock and roll.
Williams brought with him a song, "Earth Angel", on which he had worked with Gaynel Hodge, another member of the Hollywood Flames
The Penguins were inducted into The Vocal Group Hall of Fame in 2004
*Cleveland Duncan – lead tenor vocal – July 23, 1935 – November 7, 2012

*

Curtis Williams

 – bass-baritone vocal – December 11, 1934 – August 10, 1979

*Dexter Tisby – tenor vocal – March 10, 1935 – 

*Bruce Tate – baritone vocal – January 27, 1937 – June 20, 1973

Randy Jones

Ray Brewster

Teddy Harper

Walter Saulsberry

Vesta King

Vera Walker

Rudy Wilson

Glenn Madison
*The original members of The Penguins
 1956     Cool, Cool Penguins    Dootone
Year /Song Title /Highest US Chart Position
A Christmas Prayer – Buck Ram
Baby Let's Make Some Love – 

Dootsie Williams

Be Mine – Sandy Nelson
Be Mine or Be a Fool
Cold Heart
Do Not Pretend – Curtis "Fitz" Williams
Don't Do It – Columbus Duncan / Dexter Tisby / 

Calvin Williams

 / Bruce Tate
Earth Angel – Dootsie Williams
Earth Angel (Will You Be Mine)
Earth Angel [1955] [Dootone Version] – 

Jesse Belvin

Earth Angel [1956] [Mercury Version] – Jesse Belvin
Heart of a Fool – Frank Weldon / Ruth Maxwell
Hey Senorita – Carl Green / Lover Patterson / George Treadwell / Curtis "Fitz" Williams
Hey Señorita – Carl Green / Lover Patterson / George Treadwell
I Ain't Gonna Cry No More
Jingle Jangle – Curtis Williams
Kiss a Fool Goodbye
Let Me Make Up Your Mind
Love Will Make Your Mind Go Wild – Curtis Williams / Curtis "Fitz" Williams
Lover or Fool – Don Julian / Ruth Maxwell
Memories of el Monte – Ray Collins / Frank Zappa
Pledge of Love – Ramona Redd
The Ookey Ook
Want Me
You're an Angel
Related articles