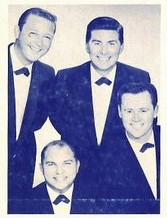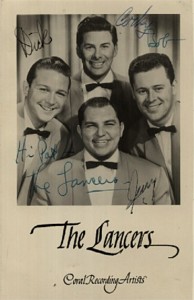 The Lancers consisted of Jerry Meacham, Dick Burr, Bob Porter and Corky Lindgren. They were a popular singing group of the early to mid-fifties and hit the charts with "Sweet Mama Tree Top tall" in 1953. The Lancers version of Open Up Your Heart did manage to get some airplay. The Lancers with Teresa Brewer, "Let Me Go, Lover!" was recorded on November 18, 1954 and released by Coral Records as catalog number 61315. It reached #6 on the Billboard chart and #9 on the United Kingdom chart.
Jerry Meacham – Died in 19
Dick Burr – Died in 1998
Bob Porter – last heard lives in Guatamala – 2012
Corky Lindgren –  died in the early 1990's. He was the bass of the group and his rendition of Old Man River was the best.
1954   The Lancers       Trend Records
1957   Dixieland Ball    Coral Music Group
Year /Song Title /Highest US Chart Position
'Twas the Night Before Christmas feat. Les Brown
A Man Is as Good as His Word – Alfred Perry
Bassology feat. Andre Williams – Andre Williams
Black Bull feat. Andre Williams – Andre Williams
Cherry feat. Les Brown – Don Redman / Ray Gilbert

Doing the Snatch

Dr. Casey Twist

Fool, Fool, Fool feat. Kay Starr
I Waited a Little Too Long feat. Kay Starr / Coleman Hawkins – Daniel O'Connor / S. Colby Miller
I Wanna Do More Than Whistle feat. Les Brown
Jivin' Around feat. Andre Williams – Andre Williams
Kay's Lament feat. Kay Starr – Hal Stanley
Loch Lomand Twist – Traditional
Mister Sandman feat. Les Brown
My Little Girl – The Lancers
Psychedelic Soul feat. Strags – Alfred Cooper
Somebody Else Is Taking My Place feat. Les Brown – Bob Ellsworth / Russ Morgan / Richard Howard
Somebody Help Me feat. Kicks – Lonnie Duvall
Timberjack feat. Lawrence Welk & His Champagne Music

Torture

When You Brought Me feat. Reets –  R. Brown
You've Got To Forget Her feat. Bridge – Lonnie Duvall
 for the March of Dimes
 Jo Ann
This was recorded in 1958 (B-side),and the flip side was The Stroll.
Coral Records
Trend Records
Related articles