1970: The Partridge Family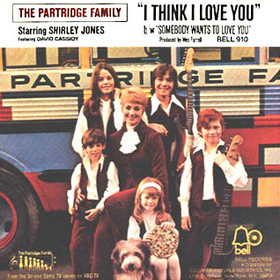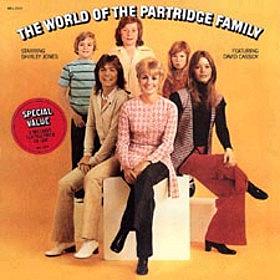 The Partridge Family is an American television sitcom series about a widowed mother (Shirley Jones) and her five children who embark on a music career. It ran from September 25, 1970, until March 23, 1974, on the ABC network as part of a Friday-night lineup, and had subsequent runs in syndication.
Cast and characters
Shirley Jones as Shirley Partridge: vocals, keyboards, tambourine, percussion
David Cassidy as Keith Partridge: lead vocals, rhythm guitar, electric lead guitars, banjo
Susan Dey as Laurie Partridge: vocals, harmony, piano, Hammond organ, percussion
Danny Bonaduce as Danny Partridge: vocals, bass guitar
Jeremy Gelbwaks as Chris Partridge (season 1): vocals, drums
Brian Forster as Chris Partridge (seasons 2–4): vocals, drums
Suzanne Crough as Tracy Partridge: tambourine, percussion
Dave Madden as Reuben Kincaid: band manager
Ricky Segall as Ricky Stevens (season 4): singer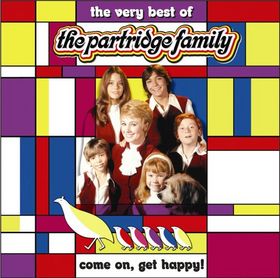 Notable guest stars
During its four-season run, many actors made guest appearances on the show. Some of them were known at the time, such as Morey Amsterdam, John Astin, Carl Ballantine, Edgar Buchanan, Dick Clark, Jackie Coogan, Howard Cosell, Jodie Foster, Ned Glass, James Gregory, Margaret Hamilton, Pat Harrington, Jr., Arte Johnson, Harvey Lembeck, Harry Morgan, Slim Pickens, Richard Pryor, Barbara Rhoades, William Schallert, Nita Talbot, Larry Wilcox, Dick Wilson, and William Windom. While others would later become famous, such as Meredith Baxter, Richard Bull, Bert Convy, Farrah Fawcett, Norman Fell, Tony Geary, Louis Gossett, Jr., Harold Gould, Jackie Earle Haley, Mark Hamill, Ann Jillian, Gordon Jump, Cheryl Ladd, William Lucking, Stuart Margolin, Richard Mulligan, Michael Ontkean, Noam Pitlik, Annette O'Toole, Charlotte Rae, Rob Reiner, Jack Riley, Jaclyn Smith, Vic Tayback, Nancy Walker, and Frank Welker.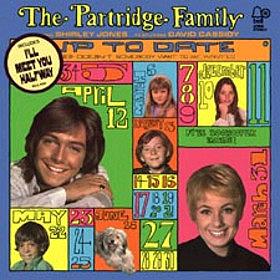 Country singer Johnny Cash made a cameo appearance in the pilot episode. Ray Bolger played Shirley's father in three episodes, and Rosemary DeCamp played Shirley's mother in four episodes. Then-Governor Ronald Reagan's daughter, Maureen Reagan, was also featured in one episode. Future Charlie's Angels stars, Jaclyn Smith, Farrah Fawcett and Cheryl Ladd all made guest appearances on separate episodes.
Bobby Sherman appeared in episode 25 (the last episode of the first season) as struggling songwriter Bobby Conway; this episode led into a short-lived spinoff series on ABC, Getting Together, starring Sherman and Wes Stern as Bobby Conway's business partner Lionel Poindexter.
The Partridge Family was produced for ABC by Screen Gems. The company promoted the show by releasing a series of albums featuring the family band, though David Cassidy and Shirley Jones, who sang background, were the only cast members who were actually featured on the recordings.
As the show and other associated merchandising took off,[clarification needed] David Cassidy became a teen idol. The producers signed Cassidy as a solo act as well. Cassidy began touring with his own group of musicians, performing Partridge songs as well as hits from his own albums, to thousands of screaming teenagers in major stadiums across the USA, UK, Europe, Japan and Australia.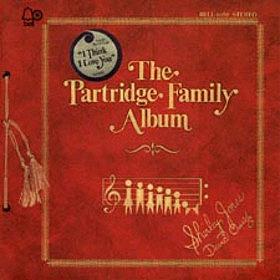 The Partridge Family's biggest hit came in 1970 with the song I Think I Love You, written by Tony Romeo (who had previously written several of the Cowsills' hits), peaked at Number 1 on the Billboard charts in December of that year. It sold over five million copies, was awarded a gold disc, and made the group the third fictional artist to have a No. 1 hit (after The Chipmunks and The Archies).
The song's companion LP, The Partridge Family Album, reached Number 4 in the Billboard 200. It was also awarded a gold disc by the R.I.A.A. in December 1970, having sold over one million copies. A string of hit Partridge singles followed: "Doesn't Somebody Want to Be Wanted", "I'll Meet You Halfway", "I Woke Up In Love This Morning", "It's One of Those Nights (Yes Love)", "Am I Losing You", "Looking Through The Eyes Of Love", "Breaking Up Is Hard to Do", and "A Friend and a Lover". These singles were showcased on million-selling albums including Up To Date, Sound Magazine, Shopping Bag, Notebook, Crossword Puzzle, and Bulletin Board.[18] Their holiday album A Partridge Family Christmas Card was the No. 1 selling Christmas record of 1971. Record sales success was replicated internationally, with The Partridge Family achieving huge hits in Canada, Great Britain, Europe, Japan, Australia and New Zealand. In all, The Partridge Family released 89 songs on 9 albums between 1970 and 1973.
Danny Bonaduce album
Though Danny Bonaduce was not part of the session band, he, too, got a recording contract, and circa 1972 released a self-titled album, Danny Bonaduce. Though Bonaduce was credited as lead singer on all the songs, he insists that he had a very weak voice and that Bruce Roberts provided most of the vocals on the album. The first track on the album, a song entitled "I'll Be Your Magician", in which the 13-year-old Bonaduce seduces a woman into having sexual intercourse with him, has developed a cult following for its campy entertainment value. The original, watered-down, version of the song was recorded with Cassidy for the Sound Magazine album, but it was discarded and never released. In fall 2010, Cassidy dared Bonaduce to learn how to play the bass guitar lines on the songs the Partridge Family performed. Bonaduce learned the bass guitar line for "Doesn't Somebody Want to Be Wanted", stating that although he had no ability to read music, the song was relatively easy to learn; Cassidy and Bonaduce have performed together on rare occasions since that time.
Pop/Rock
Bubblegum
AM Pop
Sunshine Pop
Teen Idols
1969
First episode: September 25, 1970
Final episode: March 23, 1974
1975
Theme music composer
Diane Hilderbrand
Danny Janssen
Wes Farrell
Composer(s)
George Duning
Benny Golson
Warren Barker
Hugo Montenegro
Shorty Rogers
Group Members
David Cassidy
Jackie Ward
Shirley Jones
The Partridge Family Album ‎ (10 versions) Bell Records 1970
A Partridge Family Christmas Card ‎ (7 versions) Bell Records 1971
Partridge Family, The Starring Shirley Jones (2) Featuring David Cassidy – Up To Date ‎ (5 versions) Bell Records 1971
The Partridge Family Sound Magazine ‎ (10 versions) Bell Records 1971
Shopping Bag ‎ (8 versions) Bell Records 1972
Partridge Family, The starring Shirley Jones (2) featuring David Cassidy – The Partridge Family Notebook ‎ (9 versions) Bell Records 1972
Partridge Family, The Starring Shirley Jones (2) Featuring David Cassidy – Bulletin Board ‎ (2 versions) Bell Records 1973
Crossword Puzzle ‎ (4 versions) Bell Records 1973
 "Walking In The Rain
Every Song is You
Partridge Family Reunion on Arsenio 1993
Partridge Family Reunion Danny Bonaduce Show 1995
Only A Moment Ago
It's One of those Nights, Yes Love
 Woke up in Love this Morning
The Partridge Family Opening TV Theme Song 1970
I Can Feel your Heartbeat
Doesn't Somebody want to be wanted
Blue Christmas
'll Meet You Halfway
partridge family songs
http://www.allmusic.com/artist/the-partridge-family-mn0000484145/biography

http://www.last.fm/music/The+Partridge+Family

http://www.discogs.com/artist/365136-Partridge-Family-The
Related articles