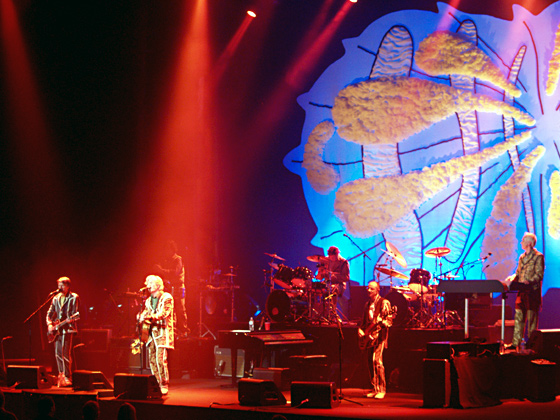 Split Enz were one of the most successful New Zealand musical acts of the 1980s. Formed in the early 1970s and variously featuring Phil Judd and brothers Tim Finn and Neil Finn, the band would go on to achieve chart success in New Zealand, Australia and Canada ‒ most notably with their 1980 single "I Got You" – and build a cult following elsewhere. Their musical style was eclectic, incorporating influences from art rock, vaudeville, swing, punk, rock, new wave, and pop. Split Enz established a reputation for a highly distinctive visual style, thanks partly to their colourful, offbeat costumes and hairstyles.
The group's career falls into two phases. The first was rooted in folk and the progressive rock scene of the early 1970s. From 1977 onwards, with the departure of songwriter/guitarist Phil Judd and the arrival of Neil Finn, Split Enz' sound began to move from a progressive rock sound towards New Wave and pop. The early 1980s proved the group's most commercially successful period, with a string of popular albums. The videos for some of the songs from this period were among the first played on MTV. Since the band's breakup in 1984, the group has reunited several times, and its members have gone on to create varied musical groups with one another, including Neil Finn's band Crowded House, Schnell Fenster, Citizen Band and the Finn Brothers.
Best known for their early-'80s new wave pop hits, particularly "I Got You," Split Enz — after surviving a dizzying array of image and personnel changes and a full decade without any recognition outside of their homeland — became the first New Zealand band to achieve worldwide success. Although they never reached superstar status outside of Australia and New Zealand, the band developed a strong international cult following that continued to thrive over a decade after their breakup. Split Enz's output always seemed slightly outside of the times and often frustratingly obscure, but in the end, they left behind a body of work that was always interesting and often reached pure pop brilliance.
True Colours The band teamed up again with David Tickle for their next album, True Colours, in 1979. The album lacked the excesses of their previous albums and showcased their new pure pop direction. With Neil Finn's seductive "I Got You," the band finally broke through — the single and album hit number one in Australia and New Zealand, with the album eventually selling 200,000 albums in Australia, the equivalent of one in every ten homes in that country. The success led to an international deal with A&M Records. True Colours performed well in the U.K. and the U.S. and went platinum in Canada. The band quickly recorded a follow-up during a mid-year break in touring. The result — called Corroboree in Australia and Waiata internationally — was released in April of 1981. The record was somewhat disappointing, seeming to follow the same formula as its predecessor but with decidedly lesser material. The album failed to match the success of True Colours, but it did manage two hit singles, "One Step Ahead" and "History Never Repeats." On their subsequent North American tour, Split Enz were billed equally with Tom Petty & the Heartbreakers, which stands as a testament to the band's growing popularity. Mal Green left the band to work on solo projects and Crombie took over on drums.
Time and Tide By late 1981, after many months of intensive touring, the band retreated to the studio to record their most personal and creatively satisfying album to date, Time and Tide. Released in 1982, it immediately topped the Australian and New Zealand charts. The advent of MTV and the channel's commitment to new wave acts helped the band's growing cult status in America — both "Dirty Creature" and "Six Months in a Leaky Boat" (as well as earlier videos) saw heavy airplay on the channel — but the album failed to see much chart action.
Escapade Early in 1983, Tim took a break from Split Enz to work on a solo album, Escapade. The album was a big success in Australasia, spawning several hits singles including the Top Ten "Fraction Too Much Friction." For all of its success, though, the album distracted Tim, delaying the follow-up to Time and Tide and effectively ending the momentum Split Enz had built over the previous three albums. Conflicting Emotions was finally finished by the fall of 1983. Prior to this album, Tim had been the primary contributor, but for this effort, he was overshadowed by brother Neil who had written a considerable majority of songs for the first time. The album, while predictably successful in Australia/New Zealand, saw a delayed release in the States and failed to make much impact. A new drummer, Paul Hester, was added, demoting Crombie to percussion. Before work was begun on the next album, Tim announced that he was leaving the band. With Neil Finn as the leader, the band carried on for one more album — 1984's See Ya Round, an uneven album that was released only in Australia, New Zealand, and Canada. Neil decided to fold the band following a farewell tour, Enz with a Bang!, for which Tim rejoined the group.
WoodfaceNeil and Paul Hester went on to form the internationally successful Crowded House, Tim continued a sporadic solo career, joining Crowded House for the Woodface album in 1991. Nigel Griggs, Noel Crombie, and Phil Judd formed Schnell Fenster, releasing two albums before disbanding and Eddie Rayner has done session work and formed his own combo, the Makers. Tim and Neil Finn reunited for a Finn Brothers album in 1995. Split Enz remains an institution in their homeland, occassionally playing reunion gigs. In 1996, the New Zealand Symphony Orchestra performed a symphonic tribute to Split Enz under the direction of Eddie Rayner with contributions from both Tim and Neil Finn as well as other New Zealand artists including Dave Dobbyn. The resulting album, ENZSO, spent several weeks in the Australian and New Zealand Top Ten. A second ENZSO project, ENZSO 2, followed in 1999. The classic Enz lineup reunited for a New Year's Eve millennium gig in New Zealand. In 2005 the band was inducted into the ARIA Hall of Fame and the True Colours-era lineup reunited again for a brief but highly successful Australian tour in 2006.
Pop/Rock
New Wave
Punk/New Wave
Alternative/Indie Rock
Contemporary Pop/Rock
New Zealand Rock
Art Rock
Prog-Rock
1972–1984
(Reunions: 1986, 1989–1990, 1992–1993, 1996, 1999–2000, 2002, 2005, 2006–2007, 2008–2009)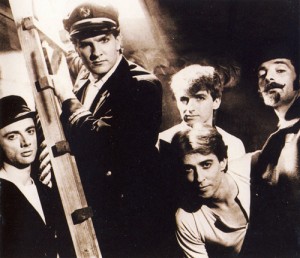 Tim Finn
Phil Judd
Mike Chunn
Miles Golding
Mike Howard
Div Vercoe
Wally Wilkinson
Robert Gillies
Geoff Chunn
Eddie Rayner
Emlyn Crowther
Noel Crombie
Malcolm Green
Neil Finn
Nigel Griggs
Paul Hester
Mental Notes (1975)
Second Thoughts (1976)
Dizrythmia (1977)
Frenzy (1979)
True Colours (1980)
Waiata/Corroboree (1981)
Time and Tide (1982)
Conflicting Emotions (1983)
See Ya 'Round (1984)
Split Enz – I Got You (1980)
Split Enz – One Step Ahead (1980)
Split Enz-True Colours [Full Album] 1980
Split Enz – Spellbound Documentary
Split Enz – Maybe (NZTV)
http://www.frenz.com/splitenz/
http://www.allmusic.com/artist/split-enz-mn0000747757
http://www.jango.com/music/Split+Enz?l=0
http://www.discogs.com/artist/109320-Split-Enz
Related articles