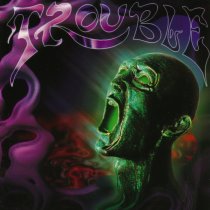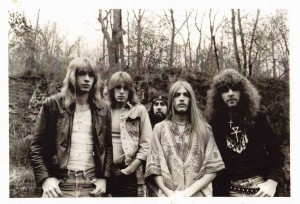 Trouble is an American doom metal band noted as one of the pioneers of their genre, alongside bands such as Candlemass and Saint Vitus. The band created a distinct style taking influences of the British heavy metal bands Black Sabbath and Judas Priest, and psychedelic rock of the 1970s. A critically acclaimed group, their first two albums, Psalm 9 and The Skull are cited as landmarks of doom metal. To date, Trouble has released six studio albums. Although the band never officially broke up, Trouble was plagued by extended inactivity after their original singer Eric Wagner left in 1997. He eventually rejoined in 2000 before leaving again eight years later.
The nucleus of the band had been vocalist Eric Wagner, guitarists Rick Wartell and Bruce Franklin, and drummer Jeff Olson. The band is also noted for the spiritual nature of their early lyrics; their first record label, Metal Blade Records, marketed the band as "white metal" (in contrast to the rising black metal movement) in the 1980s.
Trouble's unorthodox career path began to unfold in 1979, and after years of painstaking rehearsals, club gigs, and tooling with their sound, vocalist Eric Wagner, guitarists Bruce Franklin and Rick Wartell, bassist Sean McAllister, and drummer Jeff Olson came to the attention of Metal Blade Records, which issued their surprisingly mature eponymous debut in 1984. Also referred to in years to come as Psalm 9 — because of its namesake-explaining quotation from scripture: "The Lord will be a refuge for the oppressed; a refuge in times of trouble" — the album revealed not only the quintet's strong ties to heavy metal's '70s aesthetics, but also their Christian beliefs (almost unheard of in the metal world), which quickly earned them the additional label of "white metal." However, neither this, nor "doom," nor any other label mattered as much as Trouble's innate songwriting talents, which may have been too unfashionable to gain mass popularity during the golden era of thrash and pop-metal, but fueled another impressive (and even more depressing) outing in 1985's The Skull. Sadly, growing inner-band turmoil, substance abuse, and disillusion over their meager earnings would start eroding Trouble's momentum in the years leading up to 1987's disappointing Run to the Light. Recorded with a new rhythm section comprised of bassist Ron Holzner and drummer Dennis Lesh (former sticksman Olson having, as legend had it, decided to become a preacher!), Run to the Light once again met with widespread public indifference, concluded Trouble's…uh…troubled relationship with Metal Blade, and plunged the disheartened group into a three-year silence.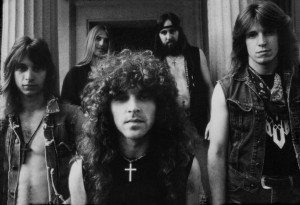 Luckily, Trouble were eventually plucked from the brink of extinction by up-and-coming producer Rick Rubin, who convinced them to sign with his visionary Def American label and produced their self-titled comeback album in 1990. Released to magnificent reviews in all the major heavy metal rags, the album (featuring new drummer Barry Stern) revitalized Trouble's career and saw them embarking on a yearlong tour that expanded their legend and fan base considerably, even if it failed to make them household names. Achieving just that was surely Trouble's goal when they once again entered the studio with Rubin to record their next album, and the stunningly realized Manic Frustration, which introduced more accessible elements of psychedelia into some of Trouble's most energetic performances ever, certainly seemed capable of elevating the long-suffering band to new heights. But this too was a just pipe dream, unfortunately, and — as they watched yet another critically lauded, cult-raved heavy metal masterpiece fly over the heads of mainstream fans (perhaps due in part to the grunge revolution that had made "metal" a bad word by then) — it seemed that Trouble's last window to glory had been shut. Subsequently dropped by Def American (experiencing financial problems of their own by now), the band took some time to regroup, welcomed back founding drummer Olson, and eventually issued a new album, 1995's Plastic Green Head, through Music for Nations. But despite offering consistently strong songwriting that harked back to their original doom roots, the album's songs also exuded a palpable sense of wary acceptance, and Trouble's inevitable demise was formally announced a short time later.
Even though Trouble had gone on an extended hiatus after Wagner's departure, rumors of an eventual re-formation persisted. From 1997 to 2000, Wagner was replaced by former Exhorder singer Kyle Thomas, who played four public gigs with Trouble.
On January 26, 2002, Wagner, Franklin, Wartell, Holzner and Olson performed a short set in Chicago. Since that time, the band has played individual gigs throughout the Chicago area and headlined metal festivals in Europe and the U.S. while working on a new album. A concert in Stockholm, Sweden in 2005 produced the live DVD Trouble – Live in Stockholm.
In February 2004, Dave Grohl of Nirvana and the Foo Fighters released a tribute album that paid homage to his metal roots. Entitled Probot, the disc featured various vocalists, including Eric Wagner, who sang on the track "My Tortured Soul". In the album's liner notes, Grohl wrote that buying Psalm 9 was like buying Sgt. Pepper's Lonely Hearts Club Band.
Holzner left the band soon after, to be replaced by Chuck Robinson, who played on the band's newest studio album, Simple Mind Condition, which was released in Europe on April 3, 2007 by Escapi Music. The band toured internationally in support of its release, but were not able to secure a U.S. release date for the album until over two years later. An unplugged album was later released through the band's website and, more recently, Escapi Music.
In May, 2008, it was announced that Eric Wagner has left the band and had been replaced by Kory Clarke of Warrior Soul, Jeff Olson also announced his departure from the band in July 2008 to continue with his own band, Retro Grave. Olson's last show with Trouble was, coincidentally, at a rock club called, "The End" in Memphis, Tenn. Olson was replaced by Wet Animal's Mark Lira for the band's upcoming U.S. East Coast tour.
In a September 2008 interview with Rock N Roll Experience, guitarist Rick Wartell mentioned that Trouble has written "eight or nine songs" for their next album, and would begin recording it after touring.[13] When asked which direction is the new music going in, Wartell replied, "I know people have said this a million times and I know you've heard this a million times, but it's pretty fucking heavy, let's put it that way! The music end of it that Bruce [Franklin, guitar] and I are writing is getting heavier and heavier…it's getting heavier and then we want Kory to incorporate his style to what we are doing, that's basically all that we really want out of this."
On November 18, 2008, Trouble announced, via their website, that they were in the process of writing songs for an album that would likely be released in the summer of 2009. A live bootleg recording featuring the new line-up was released via the band's website in 2008, then worldwide by Escapi Music about one year later. On March 4, 2009, Trouble revealed on their website that the new album would tentatively be called The Dark Riff. On September 9, 2010, the band announced that they are "getting ready for the studio now. [We] have been making preliminary recordings and working out things in order to bring the best possible Trouble release."[14] Bruce Franklin later said in a 2009 interview that The Dark Riff would not be the title of the forthcoming album.
In February 2012, Kory Clarke left Trouble. Kyle Thomas, who was with the band from 1997 to 2000, took his place. Also in February, 2012, two original members of Trouble — vocalist Eric Wagner and drummer Jeff Olson — joined forces with the band's longtime bassist Ron Holzner in a new heavy rock/doom metal act called The Skull. According to a statement on the band's Facebook page, "The Skull is here to do one thing… rock you with the sounds and spirit of Trouble — past, present, future. The Skull is planning a thirty year celebration tour of Trouble's debut album, Psalm 9 in 2014.
On February 16, 2013, Jeff Olson announced that he would be playing some keyboard intros on the new album. In May of 2013, it was announced that the new album, The Distortion Field, was scheduled to be released July 16th in North America and July 26 in Europe.
Pop/Rock
Religious
Doom Metal
Hard Rock
Heavy Metal
Christian Metal
Contemporary Christian
Current members
Bruce Franklin – guitars (1979–present)
Rick Wartell – guitars (1979–present)
Kyle Thomas – vocals (1997–2000, 2012–present)
Mark Lira – drums (2009–present)
Rob Hultz – bass (2013–present)
Former members
Eric Wagner – vocals (1979–1997, 2000–2008)
Ian Brown – bass (1979–1983)
Jeff "Oly" Olson – drums, keys, horns (1979–1986, 1993–2008)
Sean McAllister – bass (1983–1986)
Ron Holzner – bass (1986–2002)
Dennis Lesh – drums (1986–1987)
Ted Kirkpatrick – drums (1987–1989)
Barry Stern – drums (1989–1993)
Chuck Robinson – bass (2002–2008)
Kory Clarke – vocals (2008–2012)
Shane Pasqualla – bass (2008–2013)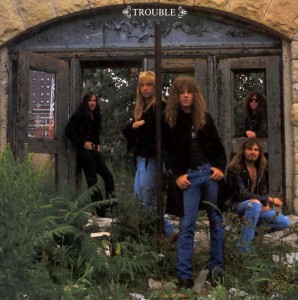 Psalm 9 (formerly 'Trouble') 1984 Metal Blade
The Skull 1985 Metal Blade
Run to the Light 1987 Metal Blade
Trouble 1990 Def American
Manic Frustration 1992 Def American
Plastic Green Head 1995 Century Media
Simple Mind Condition 2007 Escapi Music
Unplugged 2008 Escapi Music
The Distortion Field 2013 FRW Records
Trouble – Run to the Light
Trouble The Tempter Bastards Will Pay 
TROUBLE: VICTIM OF THE INSANE 
TROUBLE – PSALM 9 
Trouble – The Wolf 
Trouble – At the End of My Daze
Playlist
TROUBLE – R.I.P. 
TROUBLE – The Misery Show(ActII)
Metal Blade
Def American
Century Media
http://www.allmusic.com/artist/trouble-mn0000747243
http://www.last.fm/music/Trouble
http://www.newtrouble.com/
https://www.facebook.com/TroubleChicago
https://myspace.com/troublechicago
http://www.metal-archives.com/bands/Trouble/393
http://www.nolifetilmetal.com/trouble.htm
Related articles