The Turbans were an African American doo-wop group, who formed in Philadelphia in 1953.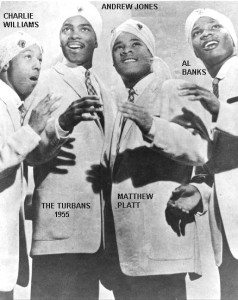 The original members were: Al Banks (lead tenor), Matthew Platt (second tenor), Charlie Williams (baritone), and Andrew "Chet" Jones (bass).
They came from Downtown Philadelphia (around Bainbridge and South Street).
Around Christmas of 1954, they won first prize in a talent contest singing their rendition of "White Christmas".  
This created interest among the local record companies, and in the late spring of 1955, they cut a demo record.
Herman Gillespie, the group's first manager, took the demo record to Al Silver at Herald Records in New York.
They signed a contract in July 1955, and gained a new manager, Allen Best.
Best worked for Shaw Artists Corporation.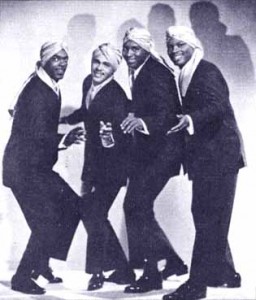 Al Banks (lead tenor) – July 26, 1937 – late 70's
Matthew Platt (second tenor)
Charlie Williams (baritone)
Andrew "Chet" Jones (bass)
 1981       The Turbans        Lost Nite
Year /Song Title /Highest US Chart Position
All of My Love – Leroy Kirkland
B.I.N.G.O.
Bingo
Bye and Bye – Eddie Beal
Congratulations – Ernie Banks / Mick Jagger / Keith Richards
Diamonds & Pearls
Diamonds and Pearls – William Powers
Farewell to Arms
I'll Always Watch Over You
I'm Nobody's – Leroy Kirkland
I'm Not Your Fool Anymore
It Was a Night Like This – Donald Jones
Let Me Show You Around My Heart – Leroy Kirkland
Miss Thing – Donald Jones
No No Cherry
Seven Days feat. Clyde McPhatter
Sister Sookey – Haven Gillespie
Six Questions
Sockee Soo
The Wadda-Do
Three Friends (Two Lovers)
Tick Tock a Woo
Valley of Love
When You Dance – Andrew Jones / Andrew "Jr. Boy" Jones / Leroy Kirkland
Related articles